Turmeric is a bright yellow Indian spice that gives curry its signature color. Its medicinal benefits have long been known to the people of India, and veterinarians are now recognizing its power to help ailing dogs.
Curcumin – the active ingredient in Turmeric – acts as a natural anti-inflammatory and antioxidant, traits that are particularly beneficial for dogs over the age of seven.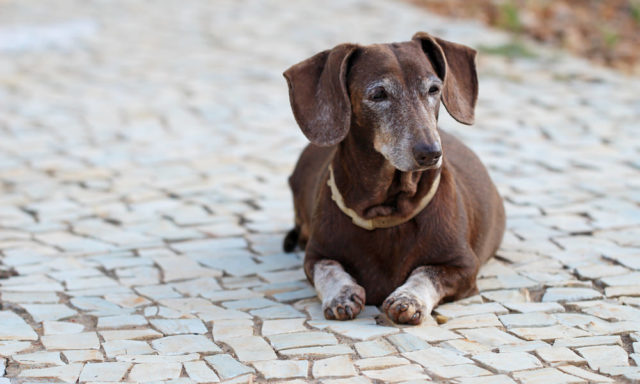 The Curcumin in Turmeric offers the following 6 health benefits to senior dogs:
1. Turmeric Counteracts Aging by Reducing Chronic Inflammation
Long-term inflammation plays a major role in many common senior dog ailments including heart disease, cancer, metabolic syndrome, dementia, and various degenerative conditions. According to a 2009 study, Curcumin's anti-inflammatory properties may be just as powerful as many pharmaceuticals – without the side effects.
Dogs suffering from the painful joint inflammation of arthritis may especially benefit from turmeric.
2. Turmeric Reduces Chronic Pain in Dogs
Inflammation causes pain. Curcumin's natural anti-inflammatory properties help reduce the pain of arthritis, degenerative disc disease, and other injuries.
Several studies on humans suggest turmeric's pain relieving power may be equal to ibuprofen.
Note: Ibuprofen is harmful to dogs and should NEVER be given to them!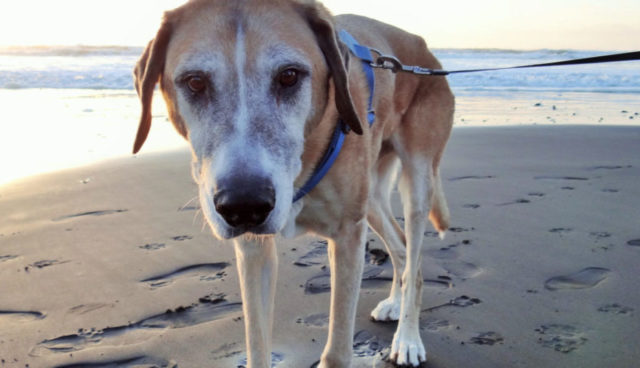 3. Turmeric Promotes Canine Cardiovascular Health
Curcumin acts as a blood thinner, reducing the risk of blood clots and helping to rid the body of excess cholesterol. It also improves the function of the endothelium (the lining of the blood vessels) which aids in blood clotting and blood pressure regulation.
4. Turmeric Aids in Digestion
The liver produces bile which breaks down fat and aids in digestion. If there is an interruption in the system, liver, gallbladder and intestinal issues can arise.
Curcumin stimulates bile production which is especially beneficial in dogs that require a high fat diet. Underweight dogs rebuilding their strength, extremely active working dogs, and pregnant/nursing mamas all fit into this category.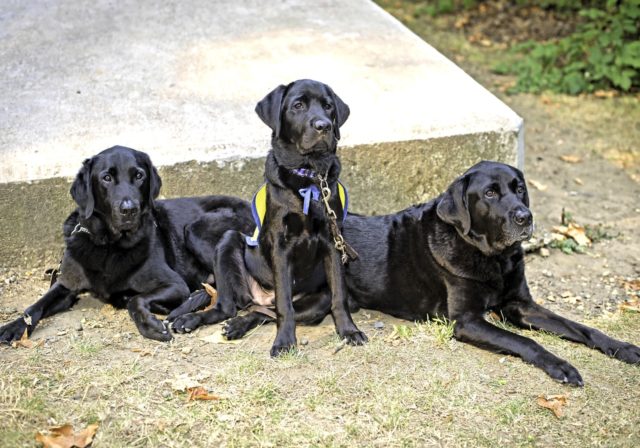 5. Turmeric Promotes Healthy Brain Activity in Senior Dogs
The people of India have much lower rates of neuro-degenerative diseases than western nations. This may be due to Curcumin, which crosses the blood-brain barrier to reduce inflammation and oxidative damage.
A 2010 study also found it to be beneficial in clearing Amyloid plaques in the brain associated with dementia.
6. Turmeric Supports Healthy Joints
Curcumin is best known for its ability to battle the painful inflammation of arthritis. With 65% of dogs over seven suffering from this heartbreaking disease, it's no wonder turmeric is a go-to supplement for seniors.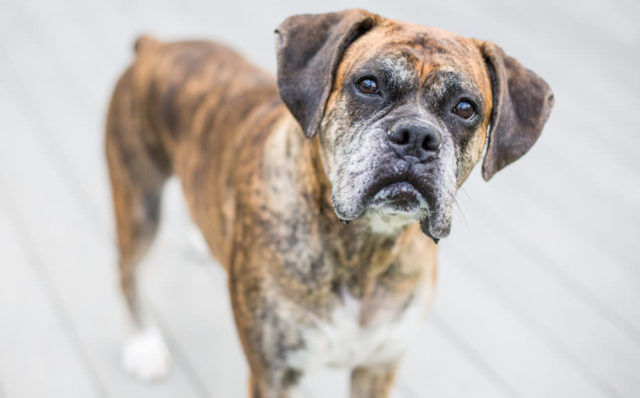 The Easiest Way To Give Turmeric to Your Dog
While some owners simply add ground turmeric to their dog's dish, there are a few possible problems with this method. First, many dogs do not like the taste of turmeric. Second, turmeric is poorly absorbed by the body without the addition of a healthy fat and black pepper extract.
Project Paws™ Advanced Hip & Joint Chews with Turmeric address both of these issues. Instead of the bitter, pungent flavor of raw turmeric, your dog tastes delicious bacon!
The seven active ingredient formula includes glucosamine, chondroitin, and MSM for additional relief from pain and inflammation. It also includes black pepper and healthy fat to ensure proper absorption.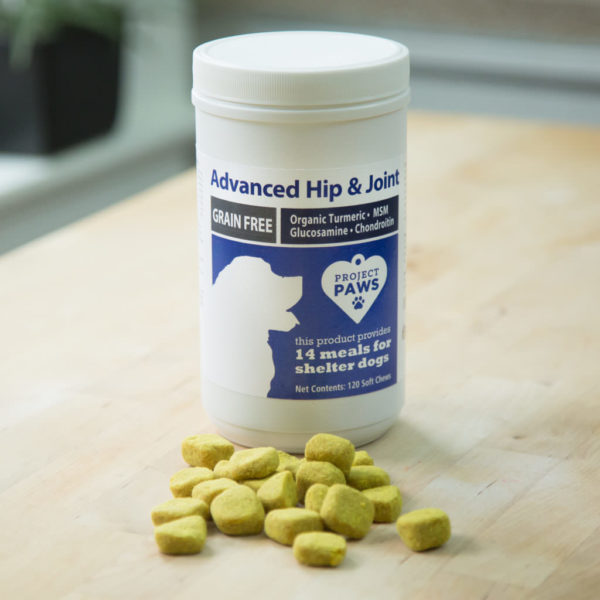 CBD Oil Offers An Additional Boost When Given With Turmeric
CBD offers many of the same benefits as turmeric in an entirely different compound. The two natural treatments work well together to provide relief from common ailments plaguing senior dogs.
Like turmeric, CBD reduces pain and inflammation. It also aids dogs with digestive issues by reducing nausea and stimulating the appetite.
In addition to these important functions, CBD works with turmeric to protect and improve healthy brain function.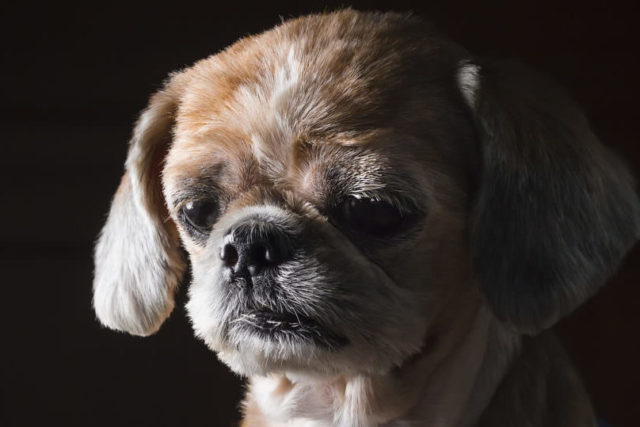 iHeartDogs.com recommends Cannanine Organic Full Spectrum CBD Oil from Hemp for senior dogs. Not only is every batch third party tested for potency and impurities, it is also 100% free of THC.
THC is the compound in marijuana that makes you high. Even a small amount can be harmful for dogs, so Cannanine employs an additional step in the manufacturing process to remove every trace.
Best of all, every Cannanine purchase provides meals for shelter dogs through GreaterGood.org!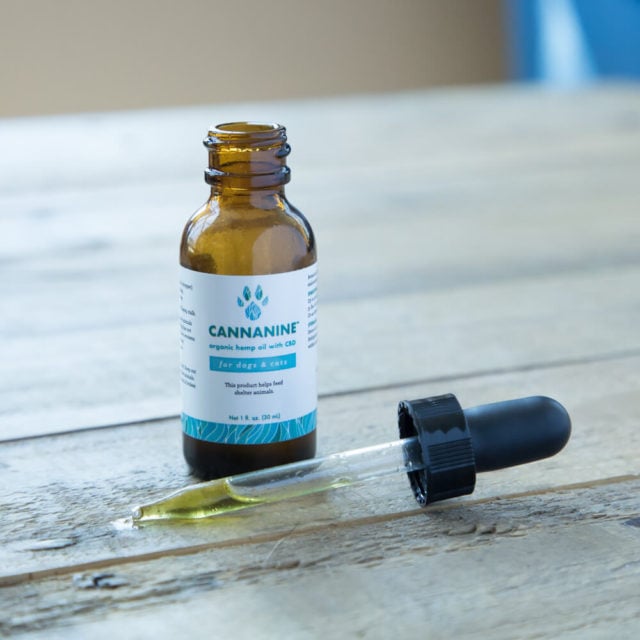 As always, you should consult your veterinarian before starting any new supplement routine.
These statements have not been evaluated by the Food and Drug Administration. This product is not intended to diagnose, treat, cure, or prevent any disease. The information on this website is not intended to replace a one-on-one relationship with a qualified health care professional.