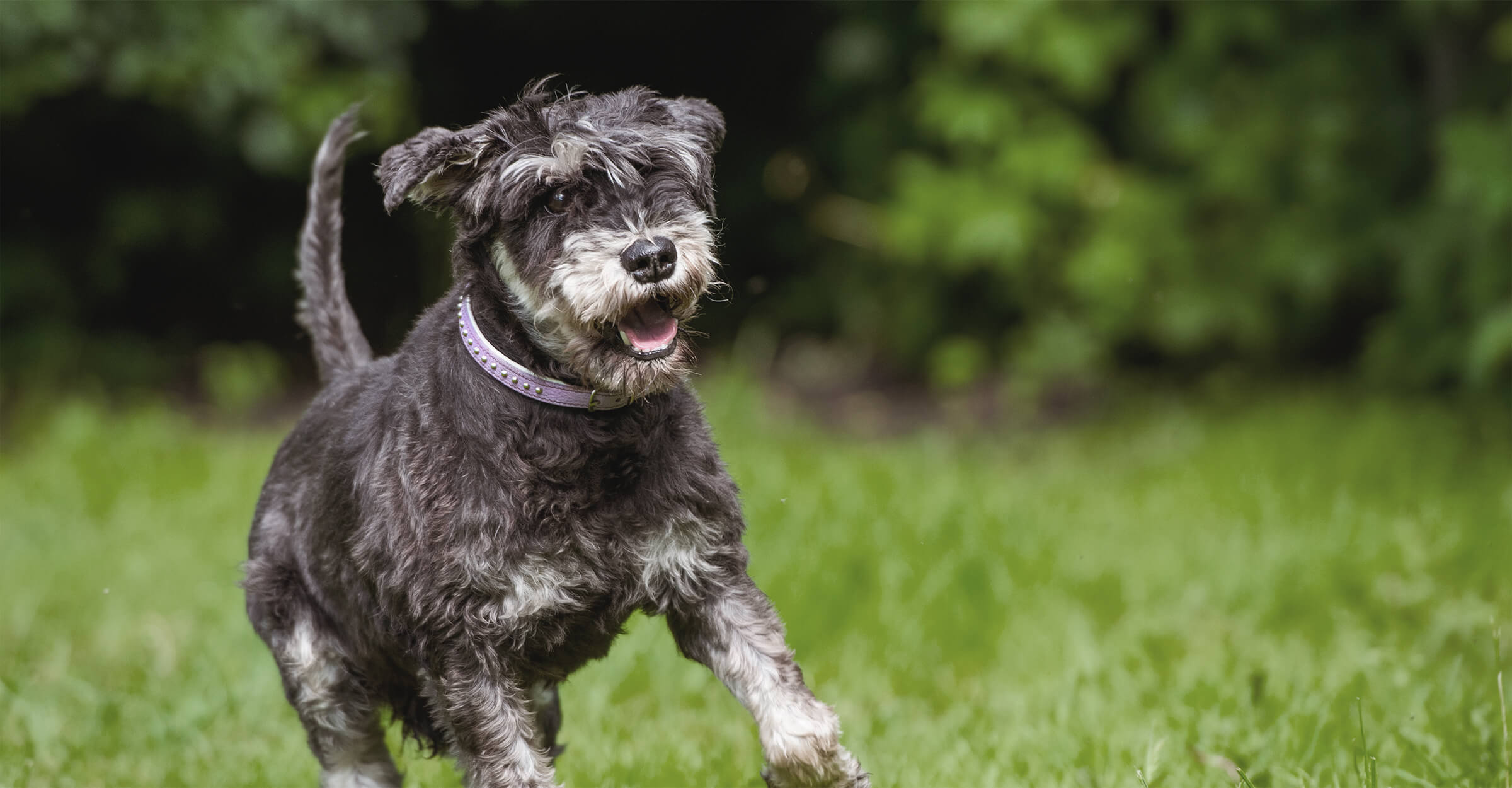 CBD and Dogs Studies: What Clinical Trials or Scientific Studies Have Been Performed?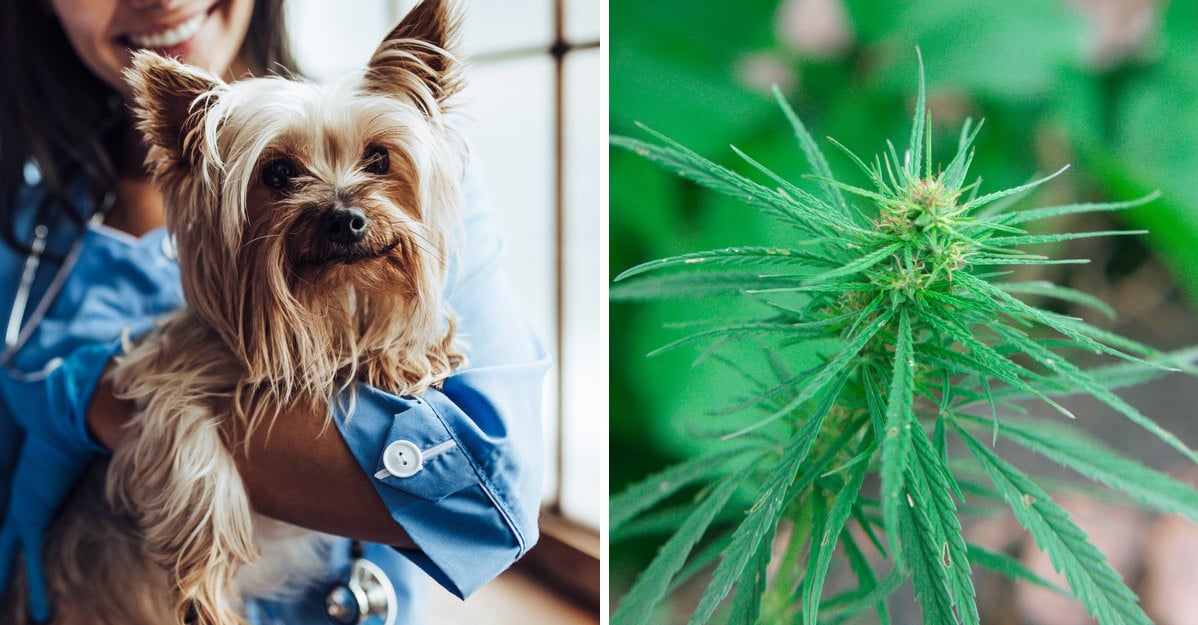 CBD (cannabidiol) for dogs has become one of the most talked about natural supplements in recent years. And while anecdotal success stories are abundant, what actual scientific studies have been done to confirm the safety and efficacy of CBD?
Much work has still to be done on CBD in both humans and animals, but the results we have so far are very promising. In this article, we'll cover some of the more significant research in both dogs, people, and other animals.
Study #1: Increased Comfort & Activity in Arthritic Dogs (Cornell University/Ellevet Sciences)
Cornell University researchers found CBD supplied from ElleVet Sciences increased comfort and the activity of dogs suffering from arthritis, according to a study published in July of 2018 in Frontiers in Veterinary Science. This clinical study suggests that 2 mg/kg of the CBD in the test given twice daily can help increase comfort and activity in dogs with osteoarthritis. 23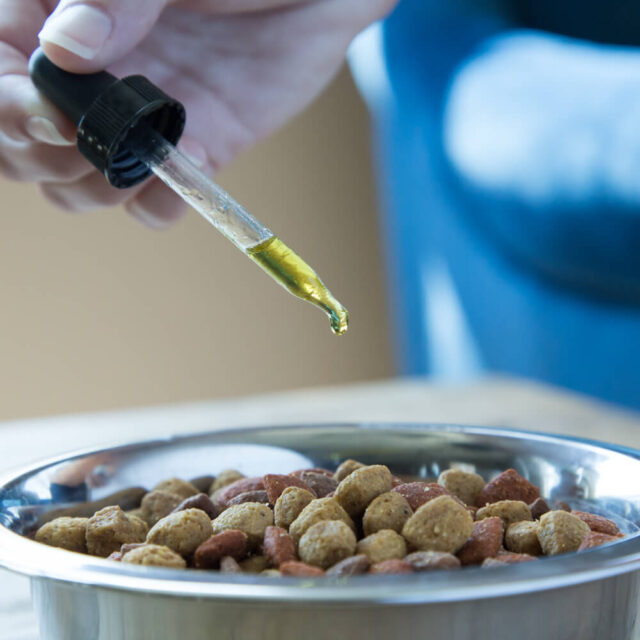 Study #2: Significant Reduced Pain & Improve Functional Performance (Liberty Leaf)
Released in August of 2018, results from this randomized, placebo-controlled clinical trial demonstrated that dogs with diagnosed osteoarthritis receiving a daily dose of only 0.3 mg per kg of proprietary CBD-infused oil formulation for four weeks showed significantly reduced pain and improved functional performance.
Study #3: Reduction of  Pain & Improved Mobility (Colorado State University)
An April 2020 Colorado State University clinical trial studied the impact of their hemp-derived Cannabidiol (CBD) product on dogs suffering with chronic pain due to osteoarthritis. The 90-day study was overseen by Robin Downing, DVM and included 32 dogs that had suffered from chronic arthritic pain for a minimum of 3 months. The study found that the addition of  Full-spectrum Hemp (CBD) oil resulted in notable benefits (decreased pain scores, improvements in mobility, and improved quality of life) for 94% of the study dogs.
Study #4: 89% Reduction in Seizures for Epileptic Dogs (Colorado State University)
A group of researchers from Colorado State University are focusing on learning more about CBD oil as a viable treatment for epilepsy in dogs. For 24 weeks, dogs that experience at least two seizures a month will receive either CBD oil treatment or a placebo. Preliminary results released in July of 2018 have shown that a surprising 89% of the dogs studied showed a drop in regular seizures. The study is a double blind, placebo controlled test. 17
Study #5: CBD Safety & Delivery Method (Colorado State University)
In 2016, Colorado State University completed work on a pharmacokinetic & safety study of CBD in healthy dogs that was the first to demonstrate the compound was measurable in the blood. The study suggests that CBD usage in dogs is safe enough to warrant studies in a clinical population. 24
For the study, 30 healthy dogs were given 2 different dosages CBD in 3 different methods of delivery: capsules, oil tincture, and a cream applied on the skin. The results showed that CBD given orally in an oil tincture was most absorbed and bioavailable to the body. (This is why we always recommend buying CBD in a tincture instead of CBD treats).
Study #6: CBD Shows Improvement of Atopic Dermatitis Symptoms (CannaPal Animal Therapeutics)
A study by CannaPal Animal Therapeutics in July of 2020 tested 13 dogs suffering from skin allergies (atopic dermatitis). After the 56 days, Dermatology Specialist Veterinarians assessed the results. Using the CADESI-4 model, they looked at skin lesions and certain areas of the body that are typically affected by atopic dermatitis.
The study concluded that dogs using CBD were more likely to see a significant decrease in atopic dermatitis symptoms. In fact, the dogs on the two CBD formulas had a 51% decrease in CADESI-4 scores, meaning fewer symptoms were present after the study.
Additional Non-Canine Studies on CBD & It's Effects
CBD for Inflammatory Bowel Syndrome
Multiple studies have shown promising results in alleviating symptoms of inflammatory bowel syndrome in humans. Other studies have suggested CBD can slow the course of the disease, improve symptoms, and increase the efficacy of available drugs for the treatment of disorders such as ulcerative colitis or Crohn's disease. 22
CBD in Treatment-Resistant Epilepsy
Scientists surveyed a group of parents who were interested in sharing information about their children's experiences with treatment-resistant epilepsy. Nineteen individuals who used cannabidiol-enriched cannabis to treat their children participated. It was found that 84% of the children experienced fewer seizures after taking CBD.20
CBD Helps Mice With Acute Pancreatitis
Mice showed evidence that cannabidiol treatment successfully reduces enzyme activity within the pancreas organ tissue. CBD showed anti-inflammatory properties that lead to "improved pathological changes."19
Generalized Social Anxiety Disorder – CBD Dog Anxiety Study
Researchers administered doses of either CBD oil or a placebo drug to people with generalized social anxiety disorder to determine possible anxiolytic properties of CBD. They measured cerebral blood flow before and after treatment and found CBD oil to be associated with decreased subjective anxiety.21
Self Reported Survey Results on CBD in Dogs: April 2018, 349 Respondents
In April of 2018, iHeartDogs conducted a self-reported survey to 349 respondents who reported to have given CBD to their dogs. The following survey results represents the reasons why CBD was given: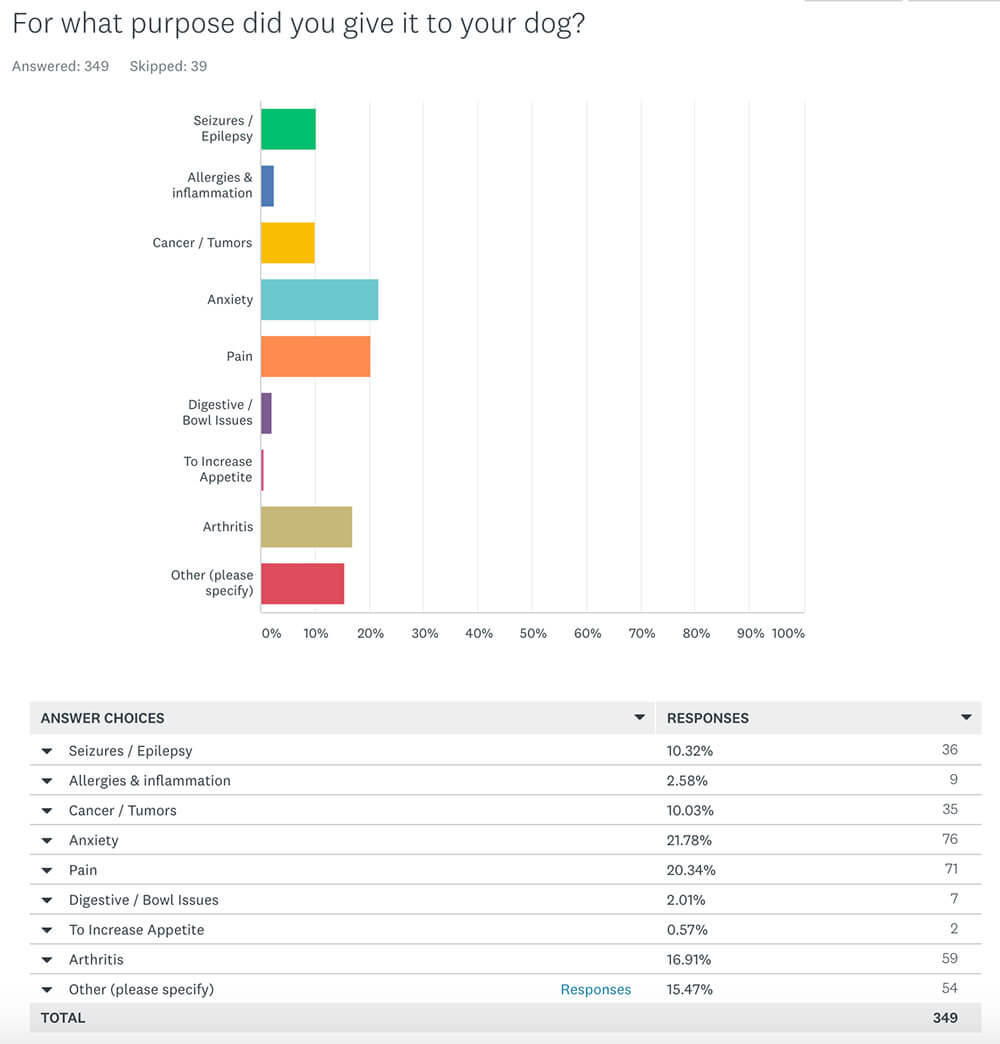 The next question addresses whether the respondents felt like CBD helped the condition for which it was given.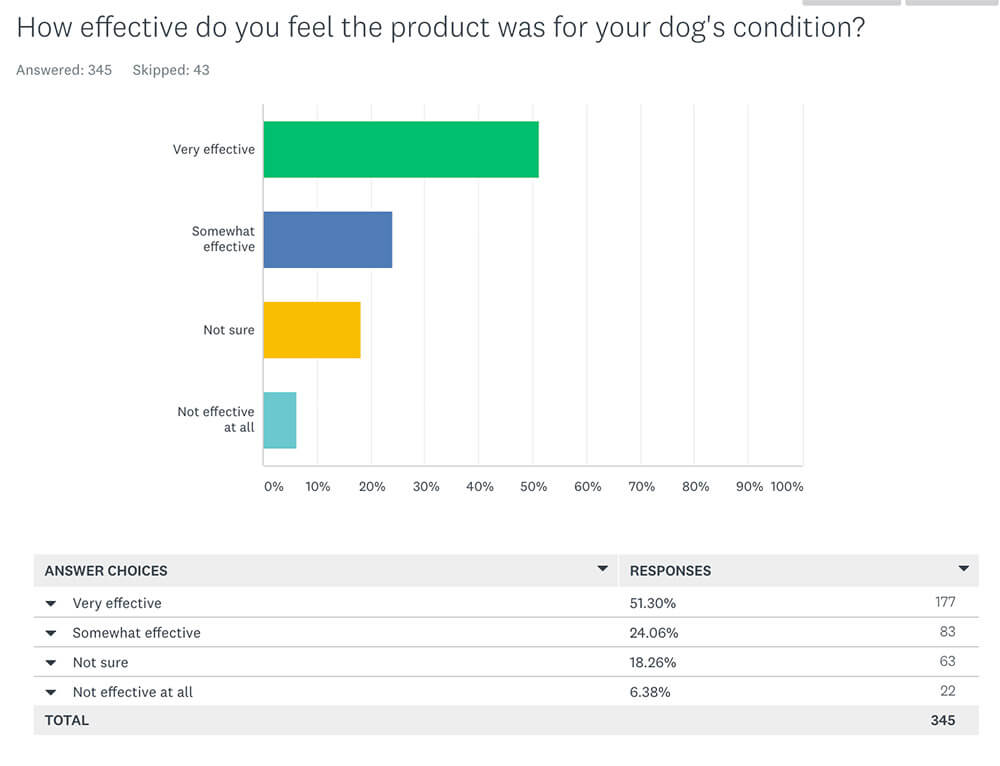 In summary, 75.3% of respondents reported that CBD was "Very effective" or "Somewhat effective" at helping their dog's condition for which is was given.
In conclusion, both the scientific and anecdotal evidence suggests CBD may be a very promising tool in maintaining health and wellness in dogs. If you'd like to learn more about CBD, please visit the resources below.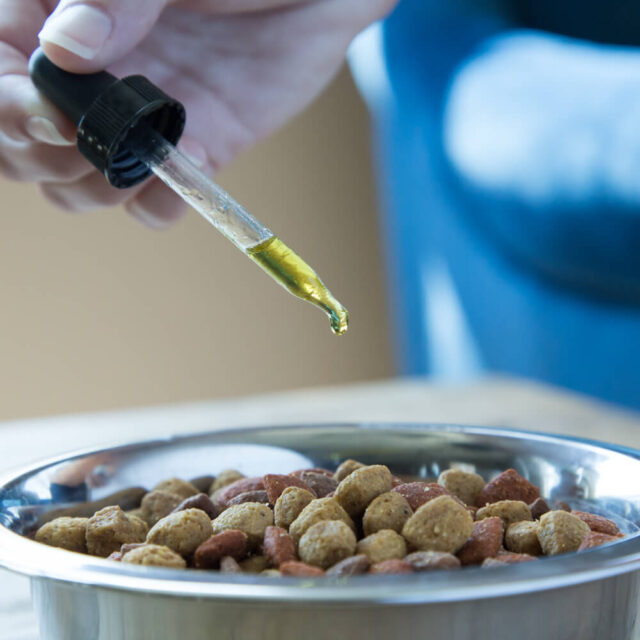 Additional Resources
Citations
16. Westword: Colorado State University Leading the Way in Veterinary CBD Treatment17. Colorado State University Veterinary Teaching Hospital: Efficacy of Cannabidiol for the Treatment of Epilepsy in Dogs
18. Colorado State University Veterinary Teaching Hospital: Efficacy of Cannabidiol for the Treatment of Osteoarthritis in Dogs
19. National Center for Biotechnology Information: Anti-Inflammatory Role of Cannabidiol in Acute Pancreatitis in Mice
20. National Center for Biotechnology Information: Cannabidiol-Enriched Cannabis Use in Pediatric Treatment-Resistant Epilepsy
21. National Center for Biotechnology Information: Neural Basis of Anxiolytic Effects of CBD in Generalized Social Anxiety Disorder
22. Therapeutic Use of Cannabis in Inflammatory Bowel Disease
23. Pharmacokinetics, Safety, and Clinical Efficacy of Cannabidiol Treatment in Osteoarthritic Dogs
These statements have not been evaluated by the Food and Drug Administration. This product is not intended to diagnose, treat, cure, or prevent any disease. The information on this website is not intended to replace a one-on-one relationship with a qualified healthcare professional.