CBD No Bake Pumpkin, Turmeric & Peanut Butter Dog Treat Recipe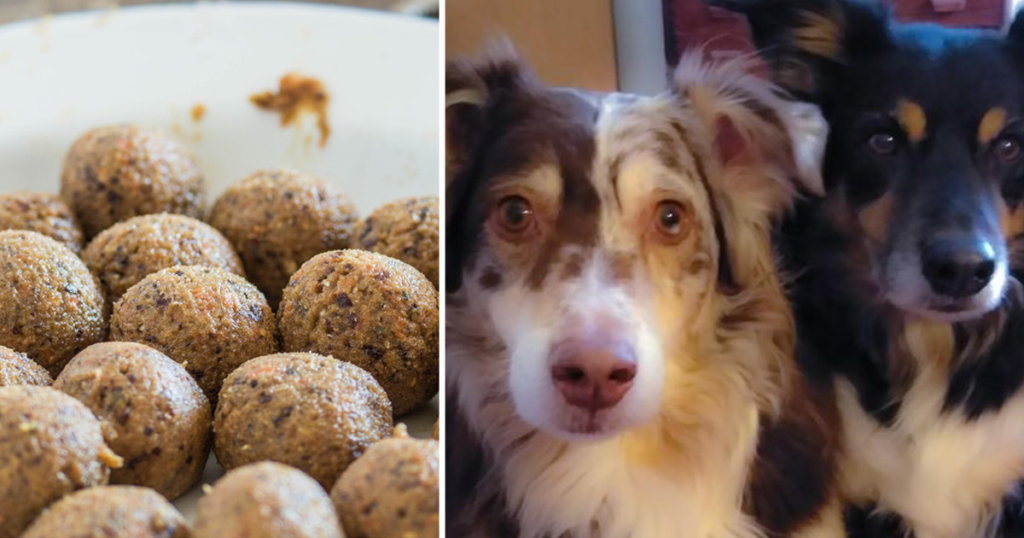 A big thanks to Pam Smith from our CBD for Dogs and Cats Facebook group for this delicious recipe!
My furry family members love these. They work great for hiding pills and CBD oil in. These freeze well so I usually double the recipe & freeze them 30 per bag (as I have 3 pups.)
No-Bake CBD, Pumpkin, Turmeric & Peanut Butter Dog Treats
Ingredients
½ cup peanut butter no xylitol
1 cup pumpkin (not pie filling)
1 tsp. cinnamon
3 tbsp. honey
2½ cups oats (I used Gluten Free)
3 tsp. Turmeric / Curcumin
1/2 tsp. Ground pepper (aids in turmeric absorption)
2 tbsp melted coconut oil
Cannanine CBD oil (per the dosage on the bottle)
Instructions
Add parchment paper to a baking sheet. In a bowl, add peanut butter, pumpkin, cinnamon, turmeric, honey, pepper & coconut oil; mix until incorporated. Add the oats & mix well. If the consistency seems to wet add a pinch more oats. Grab a chunk of the batter & roll into balls (I use a melon ball scoop.) Place on prepared baking sheet. Do the same until no more batter remains. Place the baking sheet in the fridge to let the balls harden a bit then store in the refrigerator in an airtight container for up to 2 weeks or place in the freezer for up to 3 months.
For the most consistent dose, add the CBD oil directly from dropper into each ball before giving to your dog.
A few notes from the Cannanine team: We love that these treats are "no bake", as cooking may lesson the potency of your CBD oil. As noted above, be sure to use a peanut butter that contains no xylitol, which can be deadly to dogs. Xylitol is a sweeter often found in low calorie peanut butters.
Shop from Our Whole Line of CBD Oil for Dogs