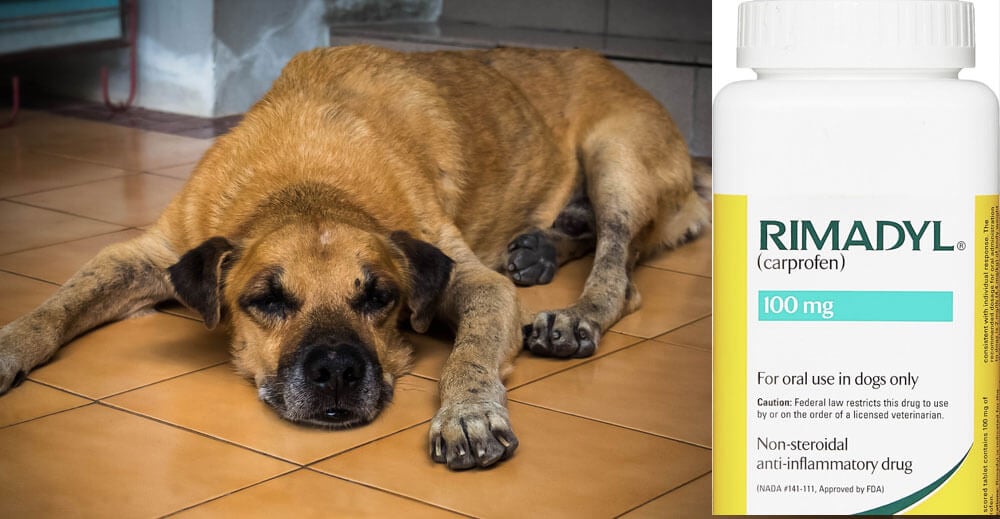 Rimadyl: Is There a Natural Alternative for My Dog? What Are The Dangers & Side Effects?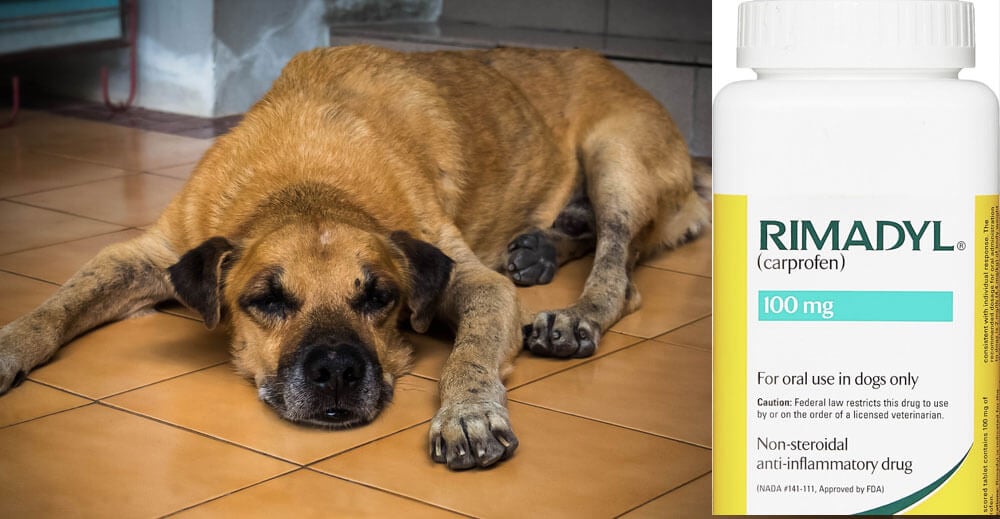 A Guide to Rimadyl for Dogs: Side Effects & Natural Pain Relief Alternatives
Rimadyl for dogs is a prescription medication most often prescribed for osteoarthritis pain in dogs. Rimadyl (and its generic form carprofen) is also commonly prescribed for cases of hip dysplasia or for post-operative pain and inflammation management.
Rimadyl and carprofen are considered Non-Steroidal Anti-Inflammatory Drugs (NSAIDs) which target pain without the use of steroids.
While Rimadyl and carprofen are significantly safer than over the counter medications such as ibuprofen and aspirin, the drug can cause several severe side effects, some of which may manifest immediately, and some which can appear over longer periods of time.
JUMP AHEAD: What is a natural alternative to Rimadyl & carprofen? 
What Kinds of Side Effects Might I See If I Give My Dog Rimadyl or carprofen?
Side effects of Rimadyl can manifest in several different areas in your dog's body:
Gastrointestinal Side Effects From Rimadyl
GI complications from Rimadyl include vomiting, diarrhea, constipation, and ulcers. Some dog owners report blackened, tarry, or bloody stools.
Dr. Colin Burrows, an internal medicine specialist at the University of Florida College of Veterinary Medicine, warns dog owners that "Aspirin & other NSAIDs (such as Rimadyl) frequently cause gastritis and peptic ulcers & should be avoided unless absolutely necessary."
If your dog experiences any of these side-effects, contact your veterinarian, who may decide to change the dosage or discontinue the use of the drug.
Liver & Kidney Side Effects Of Rimadyl / Carprofen
Although rarer, some dogs can experience severe liver & kidney complications from Rimadyl. Your dog is more at risk for these side-effects if they are elderly or have been taking Rimadyl for long periods of time. Often times, your vet will monitor your dog's blood levels while taking the drug, to ensure that liver and kidney disease are not present.
Kidney specialist Dr. Gregory F. Grauer warns us "Dogs of advanced age, including those with subclinical kidney disease, or on concurrent medications… are at an increased risk for kidney damage when an NSAID is added to their treatment."
The Possible Life-Threatening Dangers Of Rimadyl & Other NSAID Drugs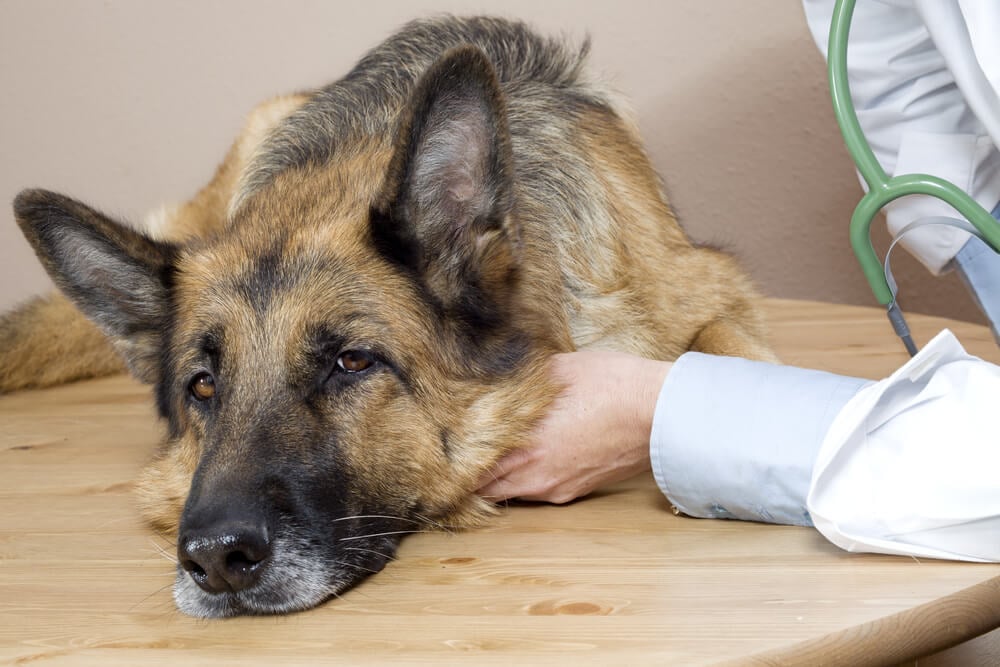 While life-threatening side effects are rare, more serious reactions to Rimadyl are possible. In fact, a surprising article issued as guidance to veterinarians on the FDA's website warns that death is in fact a possible outcome.
Since Rimadyl was first launched in 1997, the FDA has gathered reports of over 1,000 dogs that died or had to be euthanized and more than 7,000 reports of bad reactions after taking the medication. It should be noted that often deaths and adverse events are under-reported to the FDA by dog owners who are not aware of the process.
JUMP AHEAD: Is CBD a Safe Alternative to NSAIDs like Rimadyl?
Real Dog Owners Share Their Experience With Rimadyl Or carprofen
We asked members of the Cannanine Facebook group for their experience with Rimadyl:
Some owners witnessed little to no side-effects:
"I had a dog on carprofen for 6 yrs with no side effects. I have used it short term as well for injuries in a few dogs and it worked well. I do have one dog that can't take it because it upsets his stomach. He is very sensitive to medications. I have also used duramax which is suppose to have fewer side effects. Again my one dog can't take that either. If you use it just watch and monitor and changes in your dog to see if it's helping or not." – Patty McCord

"My dogs are currently on carprofen 125 mg. We haven't had any side effects other than after taking it they sleep a good ole nap, but other than that no issues at all." – Jacqueline Sibrel-Hunter
Still, other owners witnessed no side effects, but also no efficacy:
"No side effects but it also it didn't do anything for my dog." – Pete Sieradzki
However, some dog owners witnessed serious side-effects and adverse events:
"My dog was on carprofen for 2 years. Her liver was shutting down because of it and she had to be put to sleep." – Sherry Ann

"Rimadyl caused severe diarrhea after only a few days. Stopped giving it to both dogs." – Susannah Apple

"My dog was on rimadyl for about 6 months and started having gastrointestinal issues and I switched her to galliprant with no side affects. She has also been taking CBD oil for about 6 months and is doing well for a 13 year old shepherd mix." – Ellen Brosemer
Is There A Safer Natural Alternative To Rimadyl/Carprofen For My Dog?
In recent years, CBD oil has become very popular as a natural pain reliever, especially for dogs with joint pain.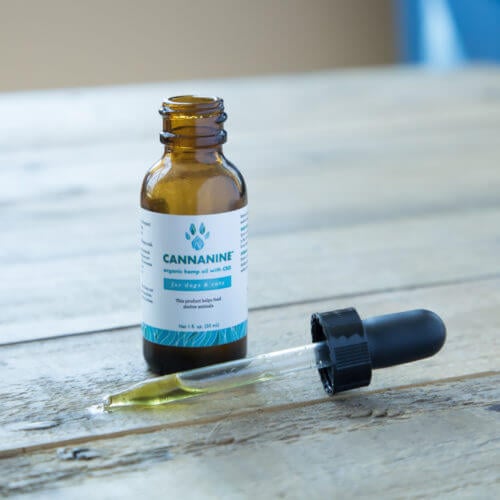 Many of the members in our Cannanine Facebook group had recently switched to CBD from Rimadyl or added CBD in addition to Rimadyl.
What Scientific Studies or Clinical Trials Have Been Done on CBD Oil for Canine Joint Pain?
More studies need to be done on CBD in dogs, but recently 2 promising studies published results:
Cornell University Study: Use of CBD for Osteoarthritis in Dogs
"Cornell University researchers found CBD increased comfort and the activity of dogs suffering from arthritis, according to a study published in July of 2018 in Frontiers in Veterinary Science. This clinical study suggests that 2 mg/kg of CBD twice daily can help increase comfort and activity in dogs with osteoarthritis."
Liberty Leaf CBD Research Study on Canine Pain Management
"Released in August of 2018, results from this randomized, placebo-controlled clinical trial demonstrated that dogs with diagnosed osteoarthritis receiving a daily dose of only 0.3 mg per kg of a CBD-infused oil formulation for four weeks showed significantly reduced pain and improved functional performance."
We've heard from many users of Cannanine CBD who stated that CBD was helpful for the alleviation of their dog's joint pain. One such story below recounts a user's experience:
[youtube https://www.youtube.com/watch?v=DjulAoZ23_w?rel=0&w=800&h=450]
RELATED: 8 Things to Know Before Purchasing CBD for Your Dog
Ultimately, whether or not you choose to use Rimadyl/carprofen should be made between you and your veterinarian. Remember, the above information is for educational purposes only. Do your own research, but always consult your vet before changing your dog's medication routine.
These statements have not been evaluated by the Food and Drug Administration. This product is not intended to diagnose, treat, cure, or prevent any disease. The information on this website is not intended to replace a one-on-one relationship with a qualified health care professional. 
Additional Resources On Rimadyl Safety, Dangers, & Side-Effects
Additional Resources On CBD: