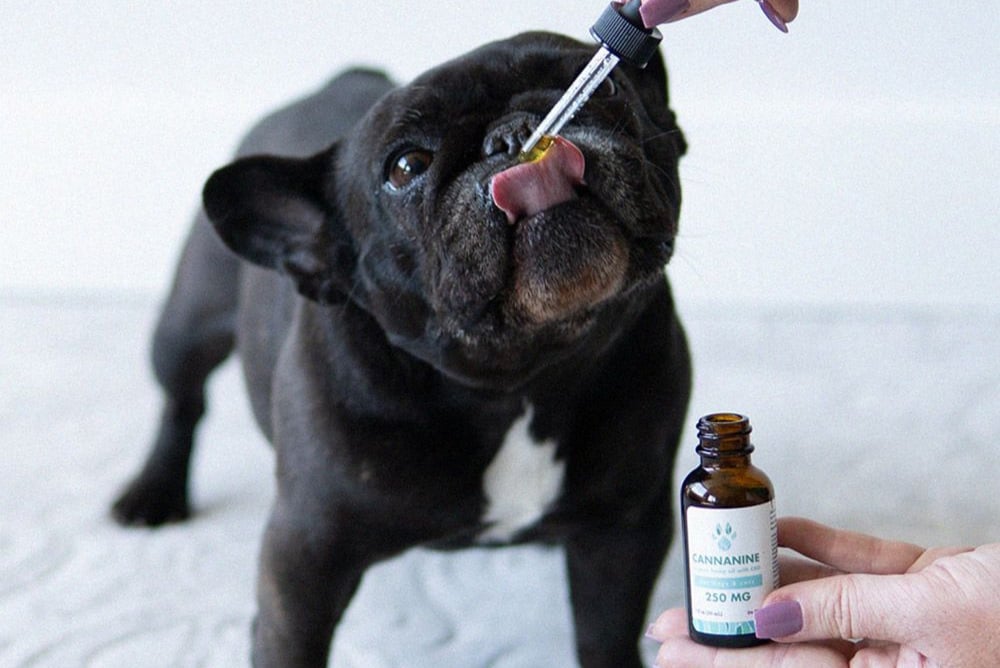 6 Questions You Need to Ask About CBD for Dogs
Cannabidiol, fondly known as CBD, is quickly making a name for itself in the world of holistic veterinary science. We can attribute its growing popularity among pet owners to its effectiveness in solving many medical and behavioral issues in pets.
However, several things remain to be a grey area for many pet owners, making them skeptical about starting their furry friends on CBD. Some of the top questions dog parents have include
What is CBD?
Is CBD legal?
How does it work?
How do you use it for pets?
What are the possible side effects and potential risks?
What are the best CBD pet products?
If the above questions have you sitting on the fence wondering whether to start giving CBD to your four-legged friend, then you're at the right place. Below, we answer these and many other questions you may have about CBD for Dogs.
What Is CBD?
CBD is a chemical compound "cannabinoid" present in both marijuana and cannabis hemp plants. Hemp-derived CBD oil has less than 0.3% of tetrahydrocannabinol (THC) and is legal in 50 U.S states.
THC is a cannabinoid found in marijuana, which causes mind-altering or euphoric effects. For this reason, marijuana-derived CBD oil is illegal in most US states.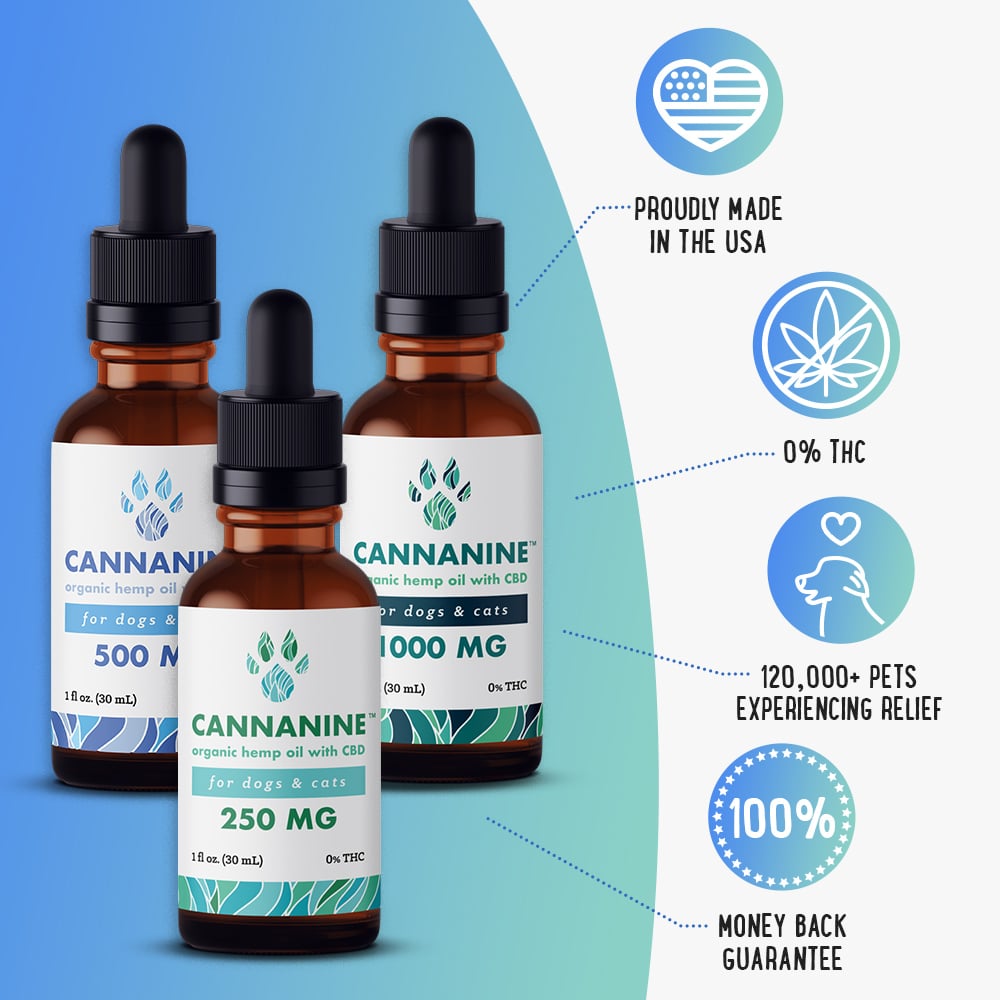 The CBD extracted from hemp plants has many therapeutic, health, and wellness benefits and is devoid of toxins and psychoactive effects. It's also non-addictive, so there is a low risk of your dog forming a dependency on CBD.
CBD Oil Vs Hemp Seed Oil
The major difference between the two is that CBD comes from the leaves, stalks, or flowers of a hemp plant. By contrast, hemp seed oil can only be extracted from hemp seeds.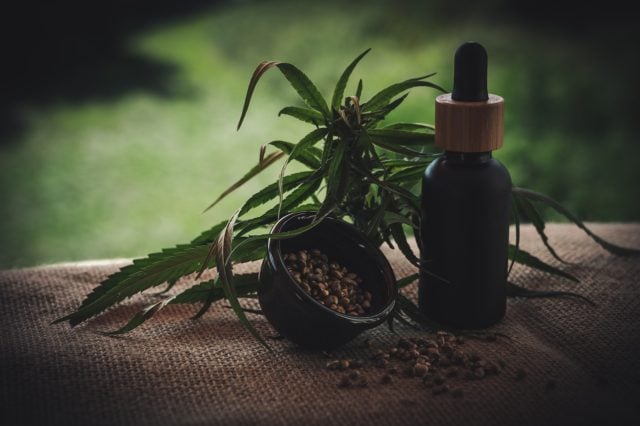 Unlike CBD oil, hemp seed extracted oil doesn't contain any traces of THC and can be used as a nutritional supplement, often in place of other medicines.
Is Dog CBD Oil the Same as Human CBD Oil?

CBD oil for dogs and humans is technically the same but there are several distinguishing factors that make human CBD unfit for your furry friends.
Human CBD oil typically contains 0.3% THC yet even trace amounts of THC can cause toxicity or the death of your dog.
Human CBD oil has a higher concentration than is necessary for dogs.
CBD oils for humans have artificial colorings and flavoring that aren't suitable for dog consumption.
With the right dosing and extreme precaution, you can give your dog human CBD. However, it's best if you give your dog CBD made for them.
Still, it's worth noting that you and I can take CBD for dogs because it contains human grade ingredients. Despite this fact, all pet CBD products are labeled as "For animal use only" in accordance with product labeling and insurance regulations.
How Does CBD Work?
Cannabinoids like CBD interact with the endocannabinoid system (ECS), which is present in all mammalian bodies.
The endocannabinoid system is responsible for achieving homeostasis or balance by regulating the key biological functions in the nervous system, such as metabolism, reproduction, growth, and development.
The ECS features three main components: enzymes, receptors, and endocannabinoids. CBD activates the receptors in your system, allowing them to bind effectively with the endocannabinoids.
By stimulating the endocannabinoid system in this way, CBD is able to influence a proper immune response and thus deliver a number of benefits to your beloved pet.
So, what are some of these fondly mentioned benefits?
Improve Your Dog's Mobility
The most heart-breaking bit of seeing your four-legged friend age is watching them suffer from degenerative pains and aches.
Although there are multiple synthetic medications on the market, when possible, natural is often preferable. Natural alternatives frequently contain fewer and simpler ingredients and have fewer side effects because of it.
CBD can address pain, irritation, soreness, and inflammation that could be hampering your dog's mobility.
CBD oil will help your dog regain mobility in the following ways.
Decreasing the painful symptoms of osteoarthritis, hip dysplasia, and elbow dysplasia while enabling aging dogs to keep moving.

An all-natural method of helping dogs recover from surgery fast without the negative side effects of synthetic pain medications
Helping canines to stay relaxed after injury, which helps with faster healing.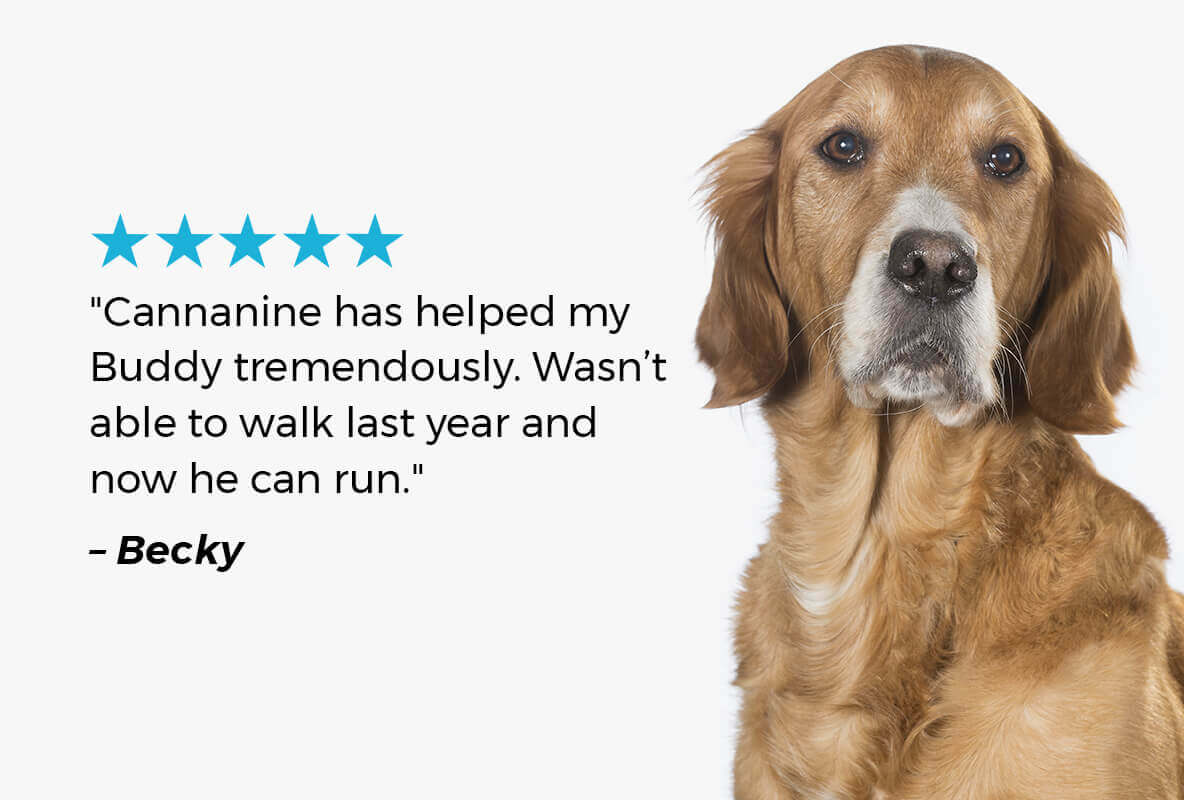 Promotes A Sense Of Calm
Does your dog appear stressed, anxious, nervous, or exhibit extreme hyperactive behaviors? Have you tried training and prescription medications, yet nothing seems to work?
We have an answer for you: try CBD oil. Hemp-based CBD oil is an all-natural substance with multiple psychological benefits, including the ability to treat anxiety and maintain your pet's health.

Administering CBD to an anxious dog improves communication in the endocannabinoid system and decreases the chemical levels of subjective anxiety. This allows the brain to produce a calming effect and nudges the body to relax and let go of the tension.
Splash, a Siberian Husky, is one such dog that benefited from using Cannanine's CBD oil. The oil alongside desensitization and other training methods helped her to overcome separation anxiety. It also helped her get off the prescription medicine that she had been on for three years.
And the best part? CBD oil helped Splash get back to the lovely, smart, playful, and trainable dog she was before the anxiety issues and medication. According to her owner, CBD also helped to calm Splash during seemingly stressful events, such as thunderstorms and fireworks.
Combats Skin Conditions (Itchiness, Allergies, and Inflammation)
Your dog's body reacts to foreign particles, such as pollen, mold, or some foods by releasing histamine.
Histamine is a chemical compound responsible for local immune responses, like targeting and attacking allergens. In dogs, histamine causes itching, swelling, hives, and nasal congestion.
Excessive itching is often accompanied by inflammation and difficulty breathing. Thanks to its anti-inflammatory properties, CBD can reduce the effects of histamine by opening the airways and reducing itchiness.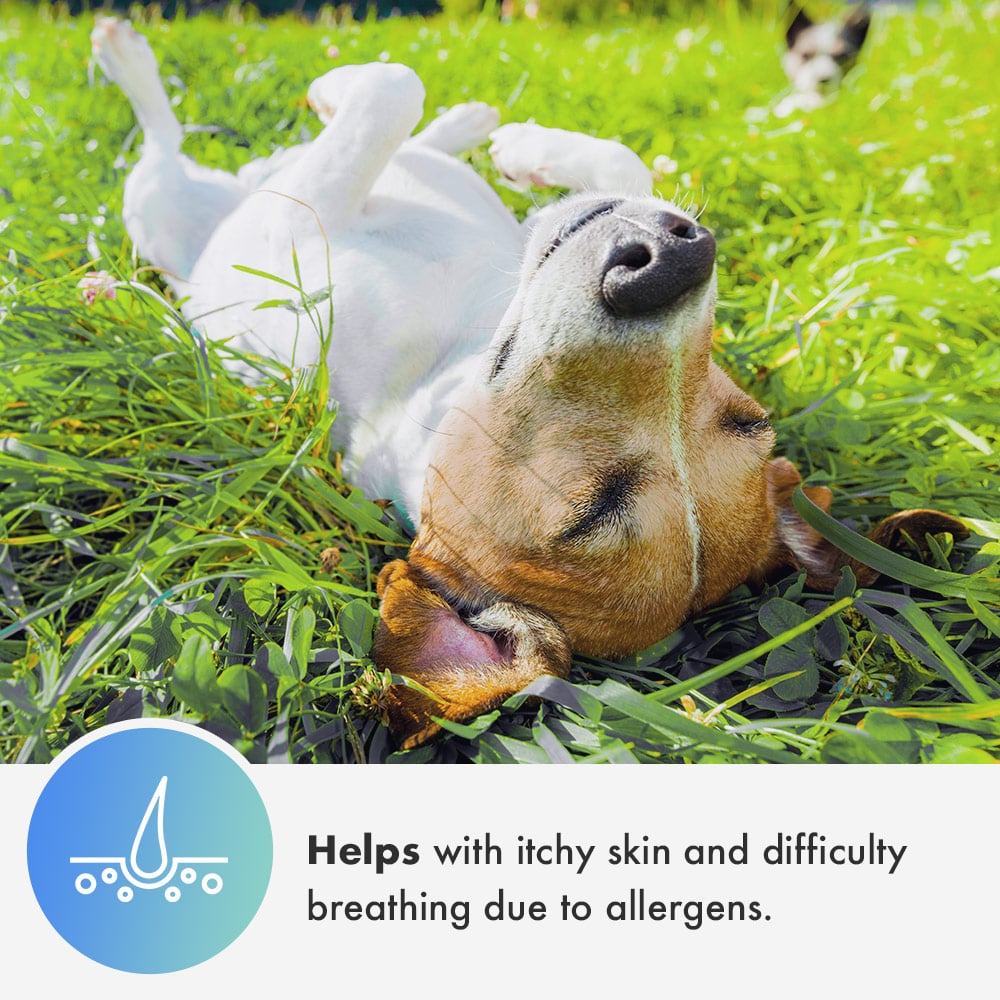 When a dog is itchy, they become uncomfortable, which triggers the brain to release stress hormones. CBD can help your dog relax and reduce their need to constantly scratch by inducing calming and anti-anxiety effects.
Additionally, it can boost their immune system and prevent it from releasing more histamine.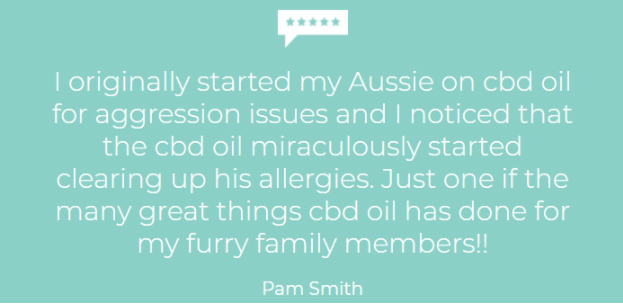 How Should I Use CBD Oil For Dogs?
Proper dosing of CBD products remains to be a grey area especially because you don't need a prescription from a veterinarian to administer CBD. However, it's best if you consult a veterinarian before you introduce your furry family member to CBD.
According to Drug Science, you need to consider
Your dog's size or weight
Their sensitivity to CBD
The delivery method
How long they've been on the substance
As a general rule of thumb, you should start by introducing low dosages slowly, as you monitor your pet's response. You can then increase the dosage amounts and frequency over time if your dog doesn't experience any negative side effects.
Here's a general guide of how much CBD is sufficient and safe for your canine, depending on their weight.
| | |
| --- | --- |
| Dog's Weight | Recommended CBD Amount |
| 10 pounds | 1 mg – 5 mg |
| 20 pounds | 2 mg – 10 mg |
| 30 pounds | 3 mg – 15 mg |
| 40 pounds | 4 mg – 20 mg |
| 50 pounds | 5 mg – 25 mg |
| Over 60 pounds | 6 mg – 45 mg |
It should take about 20-60 minutes for your dog to start experiencing the therapeutic effects of CBD. The onset of the CBD effects is also determined by the method of administration. These effects can continue for four to six hours.
The dosage frequency of CBD depends on the issue you're treating. For instance, dogs in pain need to receive a dose at least every eight hours whereas a dog suffering from anxiety or other behavioral problems will only need one or two doses a day.
Different Ways to Administer CBD
Oral administration: This involves placing several drops of CBD at the back of your dog's mouth using oral tinctures. You can follow that with their favorite treat to help them swallow without a fight.
Apply it to a treat: This method works best with porous treats that can absorb all the oil. It's also most suitable for small dogs who require a smaller dose.
Buy them CBD infused treats: Preparing CBD treats at home can be tedious, and there's a high chance that you may get the dosage wrong. Thus, spare yourself the expense and buy already infused treats such as our CBD Beef Meatball Treats with superior ingredients and maximum nutritional value.
Mix CBD into their food: You can incorporate CBD into your four-legged friend's food by mixing it with their wet food and feeding as normal.
How Long Will CBD Stay In a Dog's System?
CBD can stay in the body for up to one week after its effects have worn off. It can take 10 days or more if your pet uses it repeatedly, 3-5 days when used moderately, and up to 3 days when used once.
Other factors that determine how long CBD remains in your dog's system include
Activity level
Diet
Bodyweight
Biochemical makeup
What Are The Possible Risks And Side Effects?
CBD is a welcome relief from prescription medicine with very mild and rare side effects. It doesn't have any life-threatening side effects due to its lack of toxic properties.
Still, some mild and rare side effects can include:
Lower blood pressure, resulting in drowsiness or lightheadedness
Dry mouth
Diarrhea
Vomiting
Increased appetite
Itching
These usually disappear as your dog's system adapts to CBD. It's best to stop giving your dog CBD if they continue to experience any unwanted side effects.
It's also possible for your dog to keep experiencing side effects because you're administering high doses. In this case, wait until the side effects have worn off before continuing to give your dog CBD.
Not all dogs experience these side effects and their severity can depend on your dog's breed, age, size, sex, and level of activity.
CBD Drug Interactions
It's normal for CBD to interact with other medications in the liver. These interactions can go one of two ways: improve or hamper the effectiveness of the drug.
According to the American Kennel Club, it's only concerning when CBD interacts with cytochrome P450. The interaction inhibits the production of cytochrome P450, making medicines that rely on the chemical to be metabolized to build up to toxic levels.
When medicine builds up in your dog's system, it can cause adverse reactions and therapeutic failures. For this reason, it's best to talk to a veterinarian before giving your dog CBD.
What Are The Best Pet CBD Products?
There are various types of pet CBD products available in the market. The type of product you choose depends on personal preference and your dog's needs. Remember, the dog's needs will determine the CBD dose required.
PRODUCT
DEFINITION/USE
PROS
CONS
CBD oil tinctures

A CBD tincture is a cannabis concentrate in a carrier oil that can be administered sublingually.

It comes with a marked dropper that makes dosage precise and also allows you to infuse your dog's treats and foods with the oil.

Easy to administer precise doses.

Easily absorbed, thus delivering fast-acting benefits.

It doesn't contain added calories or ingredients.

Requires some effort to determine the right CBD dose per drop. Because dropper sizes vary.
CBD baked bites and soft chews

CBD bites are a perfect addition to your furry friend's CBD regimen.

They are formulated using ingredients that the pickiest canines can't resist.

Infused with irresistible flavors and ingredients to make CBD more tolerable.

Made using human-grade ingredients.

Suitable for dogs of all ages and sizes.

Contains other ingredients, which affect how quickly CBD is absorbed.
CBD topicals

A cream infused with CBD that can be applied on the skin to reduce pain, inflammation, and maintain healthy skin.
Has healing and moisturizing properties.

Contains bitter extracts that discourage the dog from licking and chewing on their skin.

Can be used for hot spots and open wounds.

It's not absorbed into the bloodstream like other CBD products but it does make its way to the cannabinoid receptors.
Where Should I Buy CBD Products for My Dog?
Buying CBD products for pets poses quite a challenge for many pet parents. That's because CBD products remain largely unregulated, making it possible to come across sub-standard products. You may also be misled by labels and land on products that contain hemp, but not CBD.
When looking to buy CBD oil for your dog, please consider the following factors:
CBD Source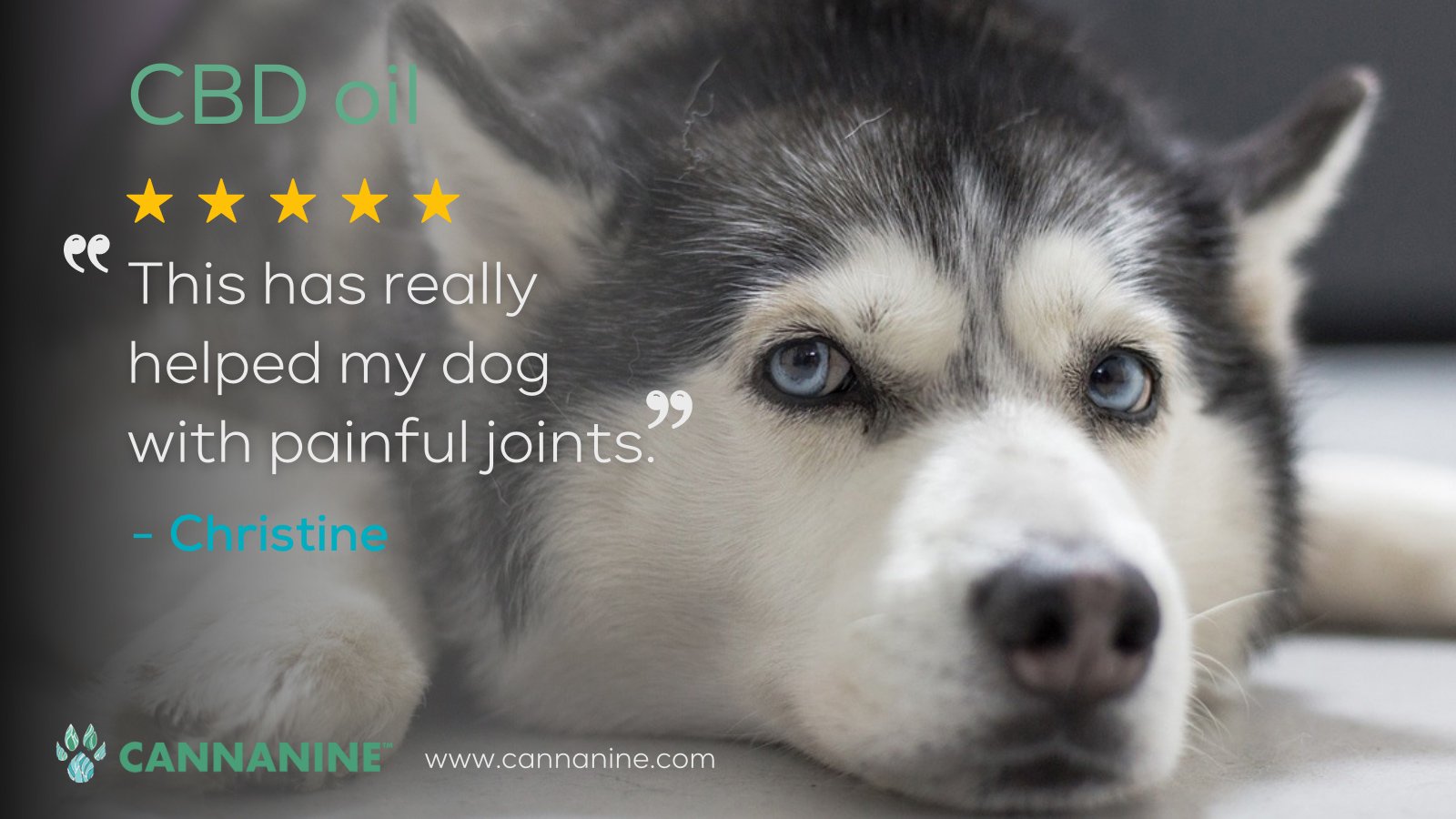 Even though CBD is legal in all 50 US states, there's still contention about the type of cannabis that the CBD is extracted from, whether that be marijuana or hemp.
Hemp-derived CBD with less than 0.03% THC is legal and doesn't pose a threat to your pet. CBD sourced from the US is the best for your dog as it's subject to testing.
Type Of Extract
There are three main types of CBD extracts:
Full-spectrum CBD: The least processed extract that contains other cannabis cannabinoids, terpenes, flavonoids, and essential nutrients, but doesn't contain any THC. The extra compounds enhance the therapeutic and overall health benefits of CBD.
Broad Spectrum CBD: Minimally processed CBD with zero THC, but may contain other cannabinoids.
Isolate CBD: It's 100% pure CBD with none of the other cannabinoids, terpenes, and phytochemicals removed through the production process.
Full-spectrum products are the best because the other cannabinoids make them stronger and able to prevent and alleviate many health conditions, without getting your dog high.
The Potency
CBD potency is the strength of a product mostly measured in milligrams (mg). The higher the potency, the stronger the dosage.
The size and weight of your canine determine the potency of CBD suitable for them.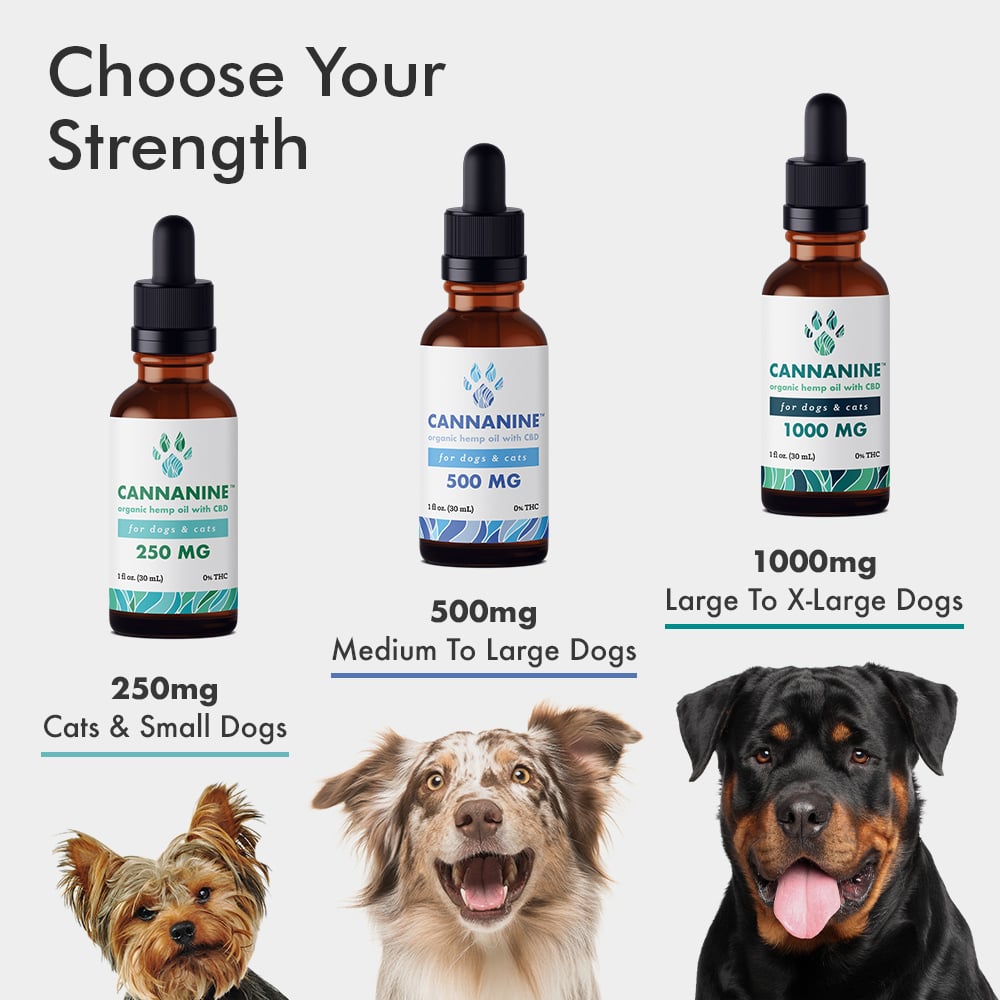 Products Should Be Lab-tested By A Third-party
Third-party testing is the only way to prove the authenticity and quality of CBD products. The process involves sharing voluntary samples from every batch of products with an independent lab.
The lab tests the products for cannabinoids, terpenes, and any contaminants. The lab then shares a certificate of analysis (COA) with the manufacturer who should proudly share them with the public.
Cannanine has obtained several COAs you can look at to confirm that you're about to purchase high-quality products.
How is CBD from Cannanine Different?
Cannanine is a CBD oil manufacturer that produces organic full-spectrum CBD oil using all-natural and organic Colorado hemp.
We use Patented Nano-Sized Microemulsion to produce our oils. This process produces tiny particles and increases the maximum bioavailability and absorbability of the oils.
Our products also differ from other CBD products in the market in the following ways.
We use organic, non-GMO, human-grade ingredients
They are made in an FDA approved facility
100% THC-free
Don't contain heavy metals, yeast, mold, harmful bacteria, and other toxins
How Do I Know I Can Trust CBD From Cannanine?
Cannanine is a veterinarian-owned company focused on providing the best quality products to ensure your furry family members live their fullest and happiest lives.
We are a family that cares for all dogs. That's why we use proceeds from every bottle purchased to provide 7 healthy meals for shelter dogs.
Additionally, shopping with us is risk-free because you get a 100% money-back guarantee and you can expect to receive your order in 5-7 business days.