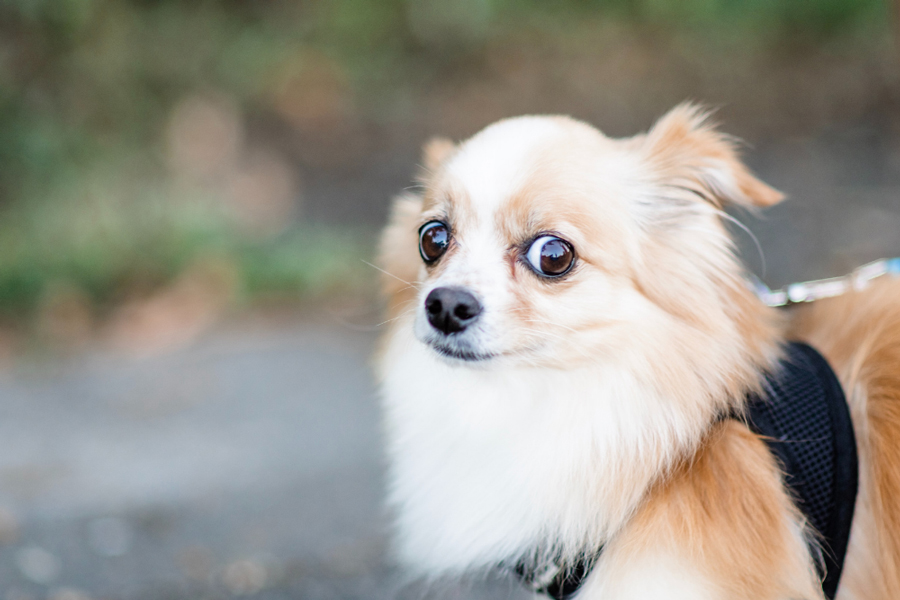 CBD Oil for Dogs Anxiety: Does It Actually Work?
Like people, dogs also suffer from anxiety—and just like in people, it's triggered by and presents itself in many different ways.
The severity of a dog's anxiety also varies. It can be mild or crippling, leading to behavior that puts your pets, or family, at risk.
While traditional treatments and pharmaceuticals might get the job done, they often come with adverse side effects.
This is why more pet owners are turning to CBD hemp oil to help treat their pets' anxiety issues. CBD is quickly making a name for itself in holistic veterinary science as a natural option for treating canine anxiety.
However, with the use of CBD in veterinary science being such a recent development, there's still a lot that remains in the grey area. This is why many pet owners remain skeptical about using CBD oil on their pets.
Top among their concerns is—does it actually work?
Table of Contents
CBD 101: What You Need to Know
How Does CBD Oil Relieve Anxiety?
How Much CBD Should You Give Your Dog?
What Are the Side Effects of CBD Oil?
Frequently Asked Questions
Can My Dog Take CBD With Their Existing Meds?
How Long Does It Take To See the Effects of CBD?
Can My Dog Overdose on CBD?
Is Dog CBD Oil the Same as Human CBD Oil?
CBD 101: What You Need to Know
CBD refers to a natural chemical compound "cannabinoid" found in both cannabis hemp and marijuana plants.
Hemp-derived CBD oil has only trace amounts (less than 0.3%) of tetrahydrocannabinol (THC)—the psychoactive compound known to induce a "high."
Due to the lack of THC, hemp-derived CBD oil is safe to use and legal in all 50 states.
It's used across different fields for its many therapeutic, health, and wellness benefits. In this instance, it's used for the alleviation of anxiety in dogs.
How Does CBD Oil Relieve Anxiety?
Cannabinoids, or CBD, interact with the endocannabinoid system (ECS) to restore balance in the biological and nervous systems of the body.
The ECS features three main components: receptors, enzymes, and endocannabinoids.
CBD activates the receptors allowing them to bind freely with endocannabinoids, thus inducing several benefits for your pet—including relief from anxiety.

Anxiety is an innate biochemical response to the perception of danger. During an anxiety attack, the brain triggers the body to release a flash of chemicals and hormones, which increase blood flow and cause a general sense of danger.
In dogs, anxiety can present itself through:
Urinating and defecating in the house
Repetitive or compulsive behavior
Restlessness
Destructive behavior, including self-harm
New or worsening aggression
Excessive barking
Escape attempts
Drooling
Pacing
Depression
Note: If your pup becomes self-destructive or poses a risk to you, your family, or other pets, seek professional help immediately.
CBD helps alleviate anxiety by activating the cannabinoid receptors, which trigger the production of serotonin.
Serotonin is the hormone that regulates heart and lung function, pain perception, behavior, and mood. An Increase in serotonin induces a sense of calm and happiness, thus reducing anxiety.
Subsequently, the fear and stress that clouded your dog's mind are lifted, and they can handle their emotions better.
★★★★★

"I wasnt sure if this would work for one of our dogs, he is very scared of loud noises. The night I gave this to him it was a severe thunderstorm and he was freaked out. If that wast bad enough, it was the 4th of July Weekend. The CBD oil bought a peaceful calming to him and made the noise less scary."
Additionally, CBD oil works fast and lacks the adverse effects and dependencies common with traditional antidepressants.
In fact, in a report published by the World Health Organization on the state of controlled substances, CBD was deemed to have no effects indicative of abuse or dependence potential.
This means you won't be drugging your pup by giving them CBD hemp oil. Nor will you put your pet at risk of forming a dependency on CBD.
See Also: CBD for Siberian Husky Separation Anxiety: How I Cured My Dog
How Much CBD Should You Give Your Dog?
There are no formal guidelines for how much CBD to administer to your furry family member. But there are a few things to consider when working out your pup's ideal dose. These are:
Your dog's size and weight
Their sensitivity to CBD
The CBD delivery method
How long they've been on CBD
The ailment you're treating
The concentration of the CBD oil
At Cannanine, we have three concentration options to choose from. Here's a quick breakdown of our CBD hemp oil options and doses based on your dog's weight:
Dog's Weight
Full Dropper (1ml)
CBD in mg
Drops
Cannanine 250mg
Under 30 lbs
0.5ml
4.2mg
10
30–60 lbs
1ml
8.4mg
20
Over 60 lbs
1.5ml
12.6mg
30
Cannanine 500mg
Under 30 lbs
0.25ml
4.2mg
5
30–50 lbs
0.5mls
8.4mg
10
51–75 lbs
0.75mls
12.6mg
15
Over 75 lbs
1ml
16.8mg
20
Cannanine 1000mg
50–75lbs
0.5ml
16.8mg
10
76–105lbs
0.75ml
25.5mg
15
Over 105 lbs
1ml
33.6mg
20
When introducing your dog to a CBD oil regimen, start low and gradually increase the dosage as you observe the effect it has on your dog.
Keep in mind that CBD takes about 30 minutes to kick in. You'll likely not notice any immediate changes in behavior. Additionally, the effects will last for between 6–8 hours.
For best results, split your dog's dosage into 2–3 smaller doses administered throughout the day.
If you don't notice any difference within two weeks, adjust upwards until you see results. However, if you're at all uncertain about increasing your dog's dosage, it's best to err on the side of caution.
Consult your vet immediately if you notice your dog vomiting, avoiding food, or seeming too out of it after administering a dose. While it's highly unlikely that your pup will experience side effects from CBD, it might still happen.
What Are the Side Effects of CBD Oil?
Current studies and anecdotal evidence suggest that CBD oil is safe for dogs. It does not cause any adverse side effects in dogs being treated for anxiety.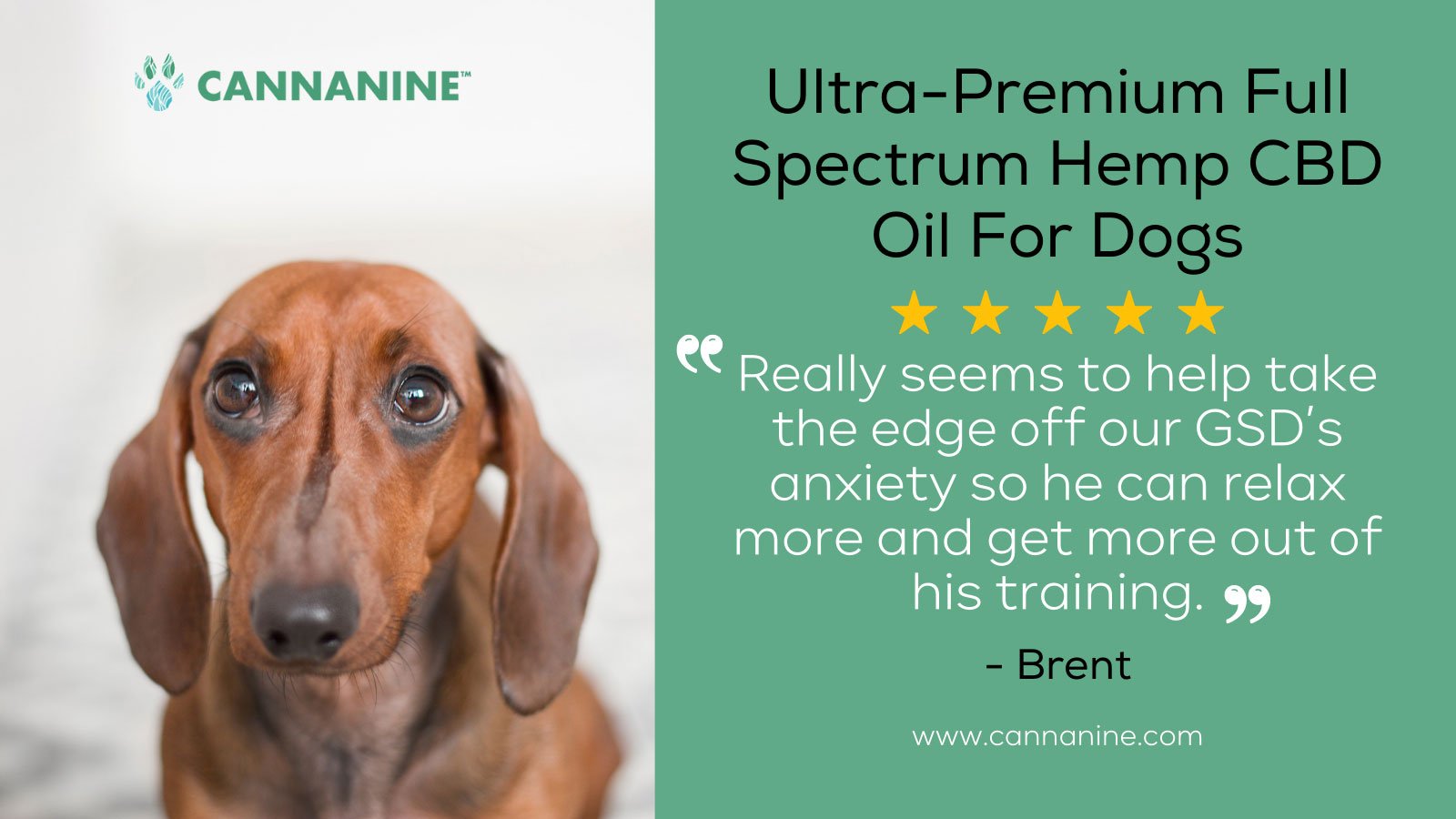 However, there are potential side effects you should look out for based on how CBD affects humans. These include:
Lowered blood pressure: In high doses, CBD is known to cause temporary drops in blood pressure. The props are usually small, but they may cause a brief feeling of light-headedness.
Dry Mouth: Research has shown that CBD reduces the production of saliva. In dogs, this could manifest as increased thirst.
Frequently Asked Questions
Can My Dog Take CBD With Their Existing Meds?
Typically, yes. However, because every dog's situation is different, we recommend discussing CBD administration with your vet, especially if your dog is already on prescription medications.
How Long Does It Take To See the Effects of CBD?
On average, it takes about 30 minutes until you notice the effects of CBD. Strive to strike a balance where your dog experiences the benefits of CBD without any of the side effects.
Can My Dog Overdose on CBD?
No. Unlike THC, the toxicity of CBD is negligible. It's extremely difficult to administer a large enough dose of CBD to harm your pet seriously.
That said, start low when introducing CBD to your dog and work your way up slowly to achieve the desired effect.
Is Dog CBD Oil the Same as Human CBD Oil?
No. Human CBD oil usually contains 0.3% THC, which can be toxic to your dog. It also has a higher concentration and often contains artificial coloring and flavorings not fit for dogs.
Additionally, some essential oils added to cannabis products intended for humans can be toxic to your dog. It's vital that you only use cannabis products made for canine consumption.
It's best to stick to a reliable, certified CBD for pets manufacturer.
See Also: Top Questions About CBD Oil for Dogs
Free Your Pup From Anxiety
So then, does CBD oil relieve canine anxiety? Yes.
As we've seen, CBD oil can be a welcomed alternative or addition to your dog's anxiety treatment. There is sufficient anecdotal evidence to support this, and there will soon be empirical evidence as well.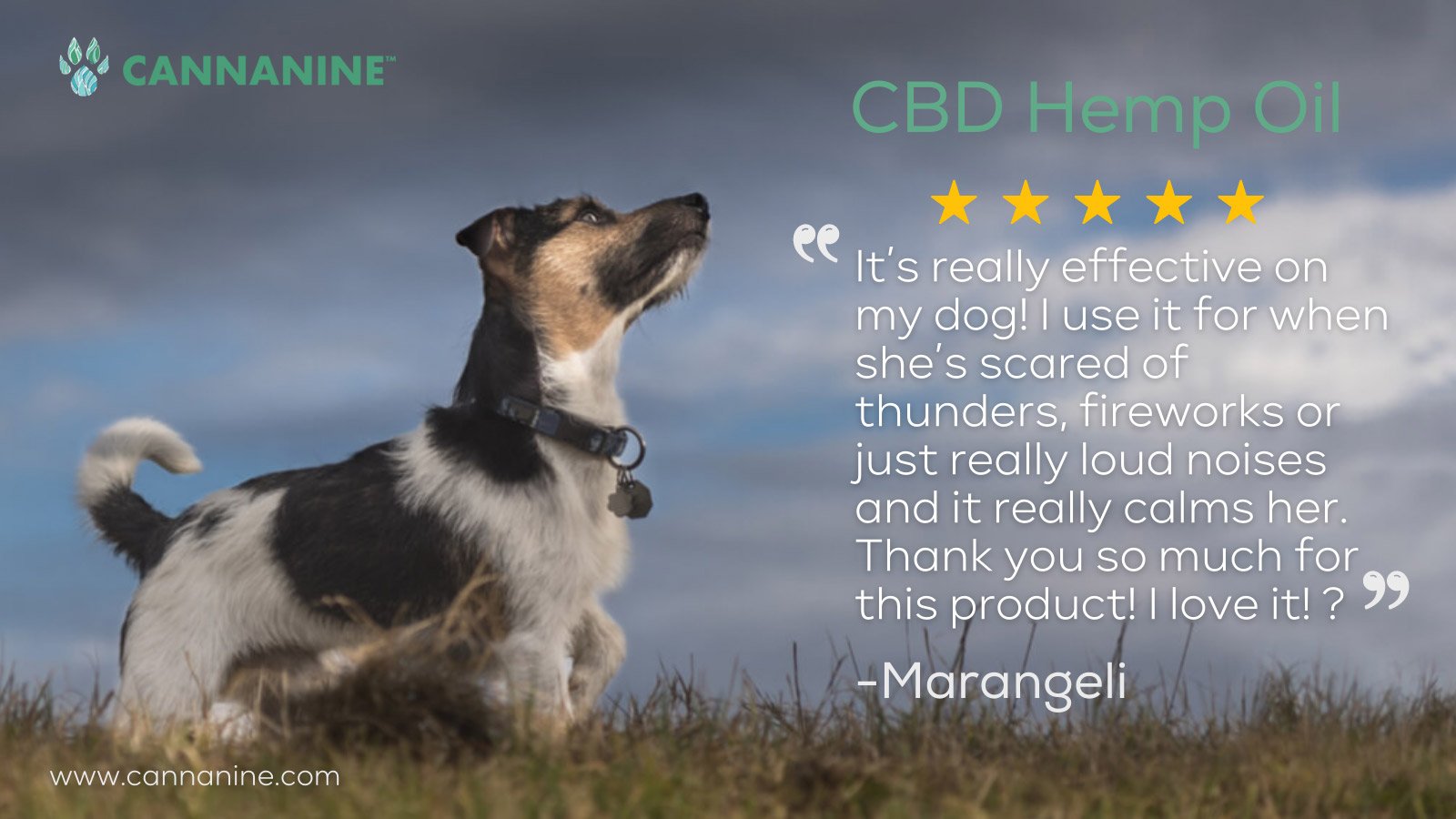 According to Dr. Jerry Klein, Chief Veterinary Officer for the American Kennel Club:
"We are likely to see continued interest in CBD and an increase in research about its uses and efficacy in the coming years."
But until then, we know to stick to CBD oils that are:
100% Organic: Only use CBD oils that are certified organic with no pesticides, fungicides, or solvents.
Certified Pet Safe: Reliable manufacturers provide certification showing the amount of CBD in their products. They also guarantee that their products contain no THC and are safe for use in pets.
Cannanine Organic Hemp Oils meets these standards and more. We have the certificates of analysis to prove it.
But that's not what sets us apart.
Cannanine is a veteran-owned company focused on providing the best quality products for pets. Even more than that, we are a family that cares for all dogs.
We only use organic full-spectrum CBD in our products, sourced from natural Colorado hemp. All our products are:
100% organic, non-GMO, with human-grade ingredients
100% THC free
Made in an FDA approved facility
Free from heavy metals, mold, yeast, bacterial and other toxins
Visit Cannanine today and find the best solution for your dog's anxiety.