We all want what's best for our pets, and CBD has recently emerged as a natural treatment for a wide variety of ailments. But how do you know which CBD products actually work, and more importantly, which are safe for your pet? Does anyone really know what's in CBD oil?
Unfortunately, CBD products aren't currently regulated by the FDA, which means anyone can slap a label on a bottle and sell it to consumers. It's up to you to ensure the CBD oil you give your pet is safe and delivers on its promises.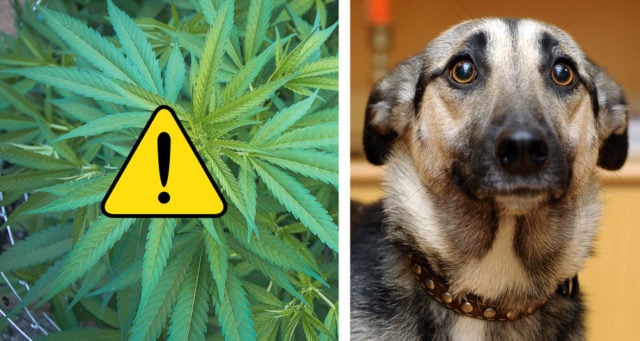 Ensuring The Safety Of CBD 
When choosing CBD oil for your pet, make sure the manufacturer sends each batch to a third-party laboratory for testing and a Certificate of Analysis (COA). This will allow you to see exactly what your pet is ingesting, and ensure that the contents match the label.
Third party lab results not only hold businesses to a higher standard, they provide important information such as:
The purity of the product
Cannabinoid and terpene profiles
Whether harmful toxins like bacteria, heavy metals and volatile organic compounds (VOCs) are present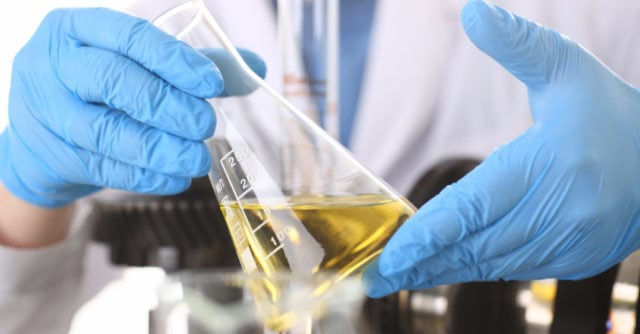 If your pet's CBD brand does not conduct third-party lab testing and post the results prominently on their website, it could be a red flag that they are cutting corners.
Even if you have access to these documents, reading and understanding them can be a challenge for the layperson. In this post we will break down the different sections of a CBD third-party lab report (Certificate of Analysis) to give you a better idea of the composition of Cannanine™ Organic Full Spectrum CBD Oil from Hemp.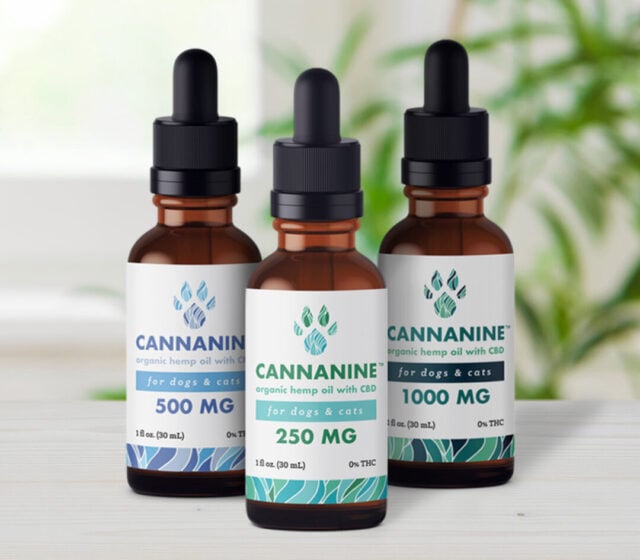 Cannabinoid Profile & Potency
Cannabinoids are the active chemicals in cannabis including tetrahydrocannabinol (THC) and cannabidiol (CBD). Laboratory technicians analyze each sample for several of the most common cannabinoids. A batch of Cannanine is only acceptable when there is lots of CBD, and absolutely no THC which can cause your pet to feel "high."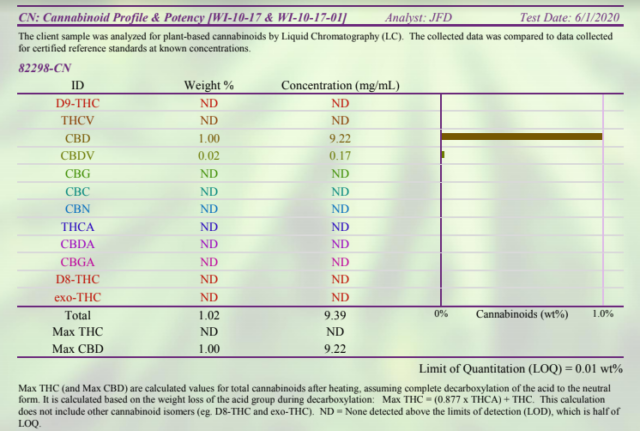 Terpenes Profile
Terpenes are aromatic compounds, many of which also have therapeutic properties to help pets battle cancer, arthritis, anxiety, and more. As you can see from the COA below, Cannanine is rich in many healthful terpenes including:
Beta-caryophyllene
This stress-relieving terpene reduces anxiety and helps your dog relax without affecting alertness. Rodent studies show that Beta-caryophyllene also has pain-relieving, antioxidant, and anti-inflammatory properties.
Alpha-pinene
Current research shows that Alpha-pinenes offer the following health benefits:
Anti-cancer properties
Anti-inflammatory benefits
Bronchodilation
Broad spectrum antibiotic properties
Increase alertness and counteract anxiety
Can decrease oil production in overly oily skin
Guaiol
Like many other terpenes, Guaiol's greatest health benefit is its anti-inflammatory properties. It is also antimicrobial in nature and has been shown to help lower blood pressure.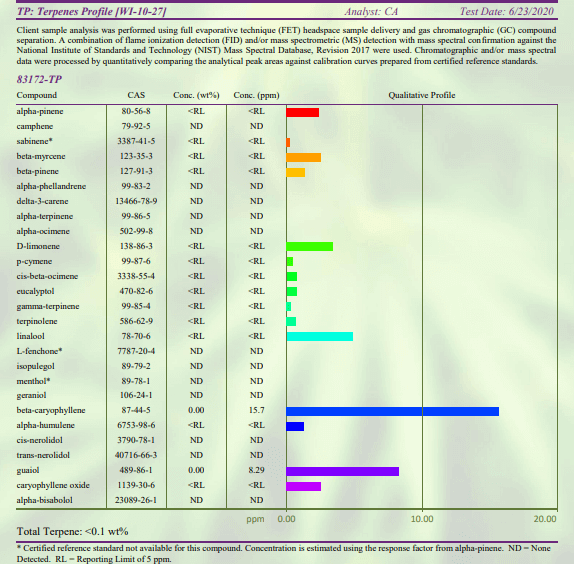 Heavy Metal Analysis
Cannabis plants are known to pull toxins from the soil so it is especially important to test CBD products for dangerous heavy metals. Every batch of Cannanine is tested for the presence of arsenic, cadmium, mercury and lead. The results are on a Pass/Fail basis. Cannanine must receive a passing mark for each heavy metal in order for us to distribute it to our customers.

Microbiological Contaminants
This section tests for the presence of bacteria, yeast, and mold. Like the heavy metal analysis, it is also on a Pass/Fail basis. Again, Cannanine must pass in each category or the batch is discarded. We only allow the safest, highest-quality products to reach our consumers.

Pathogenic Bacterial Contaminants
This test checks for the serious disease-causing bacteria E-Coli and Salmonella. No trace of these potentially-deadly organisms should ever be found in your pet's food, treats, medication, or supplements!

Pesticide Analysis
At Cannanine, the only acceptable amount of pesticide is none at all. Our lab results must always read "ND," as in "None Detected," for us to accept a batch of CBD oil.
Volatile Organic Compounds
Volatile organic compounds (VOCs) are mixtures of the element carbon and at least one other chemical. They are described as volatile because they evaporate easily, releasing molecules into the atmosphere. While some VOCs are harmless, others can be hazardous to your pet's health.
Lab technicians test Cannanine for 11 of the most common VOCs.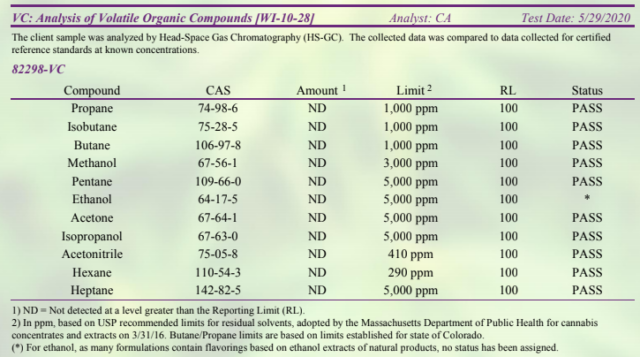 Cannanine CBD Oil Uses CO2 Extraction
In addition to our strict testing policy, we also make our CBD oil through a process called CO2 extraction which pulls out all the essential cannabinoids, terpene oils and waxes from the hemp plant.
CO2 extraction also kills any microbial bacteria, insect mites, mold, or mildew on the cannabis plant resulting in a healthier product. Finally, CO2 extracted oils are much better tasting, making them ideal for picky pets!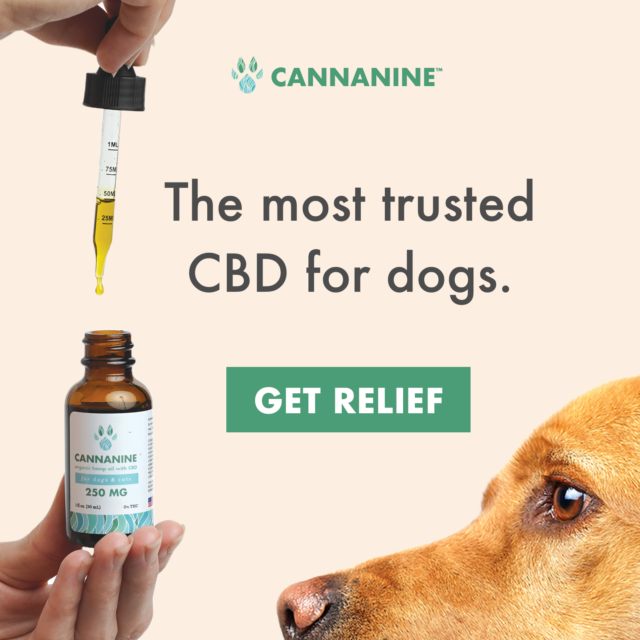 Safety is always the highest priority at Cannanine. As pet lovers and consumers ourselves, we take every possible step to ensure our products deliver on their promises.
To learn more about the safety and efficacy of Cannanine, visit our website.
These statements have not been evaluated by the Food and Drug Administration. This product is not intended to diagnose, treat, cure, or prevent any disease. The information on this website is not intended to replace a one-on-one relationship with a qualified healthcare professional.