When osteoarthritis and joint pain take hold, you may notice your dog is slower to get up. Arthritic dogs not only struggle to rise after sleeping, they also have trouble climbing stairs, accessing furniture, and hopping in and out of the car.
If your pooch is battling with these simple activities, it is time to take action.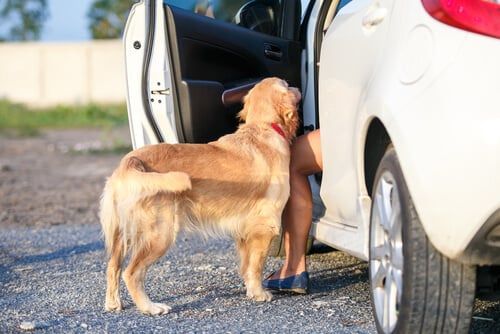 Arthritis may be the reason your dog is slower to get up.
Osteoarthritis affects dogs of all ages, sizes, and breeds. It is the most common cause of joint pain in canines. If your dog is showing hallmark signs such as fatigue, limping, or trouble standing, arthritis could be the cause. While there is no cure, you can help manage the pain and improve your dog's quality of life.
There are many options to help dogs deal with the pain and physical symptoms of arthritis. 
Veterinarians often prescribe pharmaceuticals such as non-steroidal anti-inflammatory drugs (NSAIDs) for arthritis. However, these drugs carry the risk of potentially serious side effects. Older dogs and those with liver, kidney, and gastrointestinal disease are especially susceptible, and may not be able to tolerate NSAIDs.
When a dog is slower to get up, supplements like Glucosamine, Chondroitin, and MSM, or treatments such as acupuncture, canine massage, and laser therapy may provide some relief. Recently, scientists and holistic veterinarians are also beginning to see the potential of all-natural CBD oil.
In a six week double-blind study, researchers at Cornell University found that arthritic dogs given CBD oil had a "significant decrease in pain and increase in activity." Better still, the dogs receiving CBD had no adverse side effects. Not only does CBD provide natural relief, it does so without damaging your dog's organs.

What is CBD Oil?
CBD is one of dozens of compounds called cannabinoids found in the hemp plant. While hemp is related to marijuana, there are several significant differences between the two plants. Most importantly, hemp contains only trace amounts of the psychoactive compound THC, which produces marijuana's signature high. With proper processing, hemp oil can be produced without any THC.
CBD offers all the therapeutic benefits of marijuana but without the mind-altering characteristics. Although it has been used for thousands of years, scientists are only recently learning the many benefits CBD has to offer humans and pets.
How does CBD Oil provide relief from joint pain?
Osteoarthritis occurs due to deterioration of cartilage, the spongy tissue that cushions joints. When cartilage weakens, the bones grind together, causing painful inflammation. Your dog is slower to get up, walk, and play due to the discomfort this causes.
CBD is a natural pain reliever that targets the affected joints to reduce inflammation. It works by utilizing the endocannabinoid system to restrict the transmission of pain signals to the brain. With less inflammation and reduced pain, dogs are able to return to some of the activities they know and love. Best of all, there are no dangerous side effects.

How do you choose the best CBD product for your dog?
The most important factor in choosing a high-quality CBD product for your dog is that it be free of psychoactive THC. Most products contain trace amounts of THC, but Cannanine™ Organic Hemp Oil is specially treated to be 100% THC free. For this reason, it is perfectly legal in all 50 states.
Cannanine provides relief from joint pain by supporting whole-body wellness. It is free from harmful toxins and specifically made with dogs in mind using only human-grade ingredients.
Cannanine is also available in a delicious, bacon-flavored chew for picky pups who prefer their relief in treat form! The soft chews can be used in conjunction with the oil or all on their own to give your dog the soothing CBD he or she needs.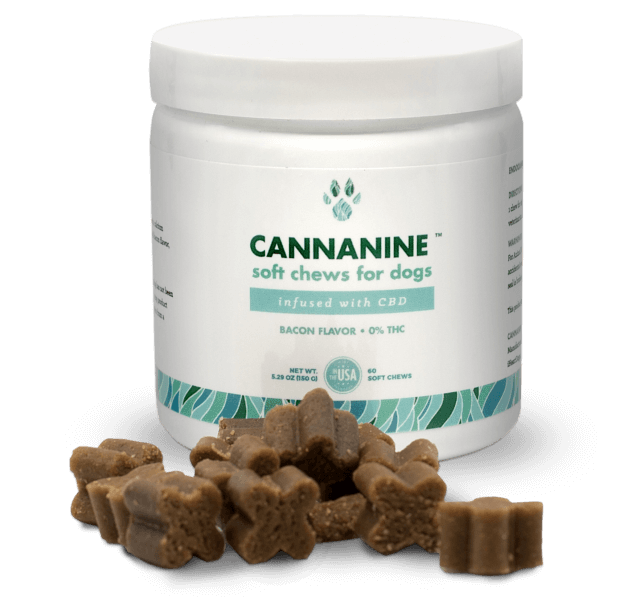 If you would like to learn more about CBD for dogs, view our comprehensive guide.
Sources:
1. All The Best Pet Care
2. Pet Health Network
3. PetMD
4. Wellspring
These statements have not been evaluated by the Food and Drug Administration. This product is not intended to diagnose, treat, cure, or prevent any disease. The information on this website is not intended to replace a one-on-one relationship with a qualified health care professional.